DES MOINES, Iowa — Conspiracy theories, misinformation and disinformation can undermine the political process and democracy in the United States.
But it goes further than harming democracy.
The fact is, conspiracy thoughts can erode the very fabric of society and ruin personal relationships.
The fear Caroline lives with as a wife of a QAnon follower is enough to make her hide her identity.
"I'm trying to protect my kids as much as possible," Caroline told Local 5's Eva Andersen.
It's the same reason 21-year-old May will also remain anonymous. Her own mother fell deep into QAnon.
"She tried to call me four times today and last night and I didn't answer because I knew what she was going to say," May said.
"Q has destroyed my life," Caroline said. "My life as I know it has been burned to the ground."
People whose quest for answers to some of life's complications took a wrong turn, and when bad actors online fed their relatives a stream of false information, it cost both of these Midwestern women their relationships and sense of personal safety.
Because of that fear, Local 5 changed their names for this story to help keep their identities a secret.
"I live with someone who hates me, who I live in fear of, all because of them. The Q's and then people who allow the Q's to breathe," Caroline said.
In short, QAnon is a conspiracy theory that originated on a website called 4Chan. Mainstream media caught wind of it in 2018.
"She had said there are these high-level people in the government," May said about her mom's explanation. "And they go by the name Q. And Q is not one person: it's a group of people who are insiders. They have all this information about child sex trafficking rings."
The theory is political because it alleges celebrities and high-ranking Democrats, who worship Satan, run a sex-trafficking ring and a plot against former President Donald Trump.
"She would tell me, 'You would not believe all of the celebrities that are on this list that are pedophiles.' And she would say this out in public or to random people."
Posts to social media from Q, called "Q-drops," spread these lies like wildfire.
"The followers believe Donald Trump is on a mission to put an end to this alleged sex trafficking ring," read one post, "and will soon do it in a public way."
Q directed followers to wait and see the whole situation play out.
"They've been collecting all the gold. Not only for physical control but for something unimaginable," another post read.
"You are watching a scripted movie," is one phrase echoed by followers on Facebook.
Some followers embraced the ideas so much that it became an obsession that glued them to their computers and phones.
"[He] stays up in bed on his phone, during the day when he's at work, constant, constant phone in his hand," Caroline said of her husband. "He truly believes that any Democrat who challenges his belief set is a pedophile."
Transcending political division, Caroline learned it's no longer safe to speak up.
"I've become the enemy, so I have to be very careful," Caroline said. "At first I was furious because it makes no sense, so I would fight back pretty fiery because it was so off the charts."
The more Caroline fought back, the more her husband would send Q's propaganda of web links and videos.
May's mom fell in so deep that she started inviting others to apps that would let this false information live and thrive: Parler.
"I remember her sending me an invite to Parler saying, 'Hey you better start using this because the government is tracking you,'" May said.
This flurry of misinformation from Q coerced followers into believing radical things would happen on certain days, such as COVID-19 ending on Election Day or President Joe Biden being arrested before he takes office.
Neither happened, but that didn't stop Q from stringing people along.
"I confronted her and said, 'What the hell are you doing? You have a daughter at home who needs you. You have a family to take care of and you're over here just living in a dreamland of conspiracies,'" May said.
But May's mom didn't listen. Instead, she bought a one-way ticket to Utah to go to a doomsday shelter in December.
"She had said to me on Christmas, 'I'm gonna go and not come back.'"
Back in Caroline's world, her husband's rage grew.
"It's not just this horrible stuff that is so dangerous and damaging," she said. "It's the anger he's focused on me for not believing it."
"So I decided to just keep my head down and avoid his wrath."
When asked if she had felt scared of her husband before this point in their marriage, Caroline said she hadn't.
"That's why it's so hard. Reconciling what my life has become," Caroline said.
Then, the insurrection happened.
Doug Jensen of Des Moines, wearing a QAnon shirt, was captured in pictures and video chasing a police officer up the stairs of the U.S. Capitol.
Jensen even posted QAnon theories on his Facebook page.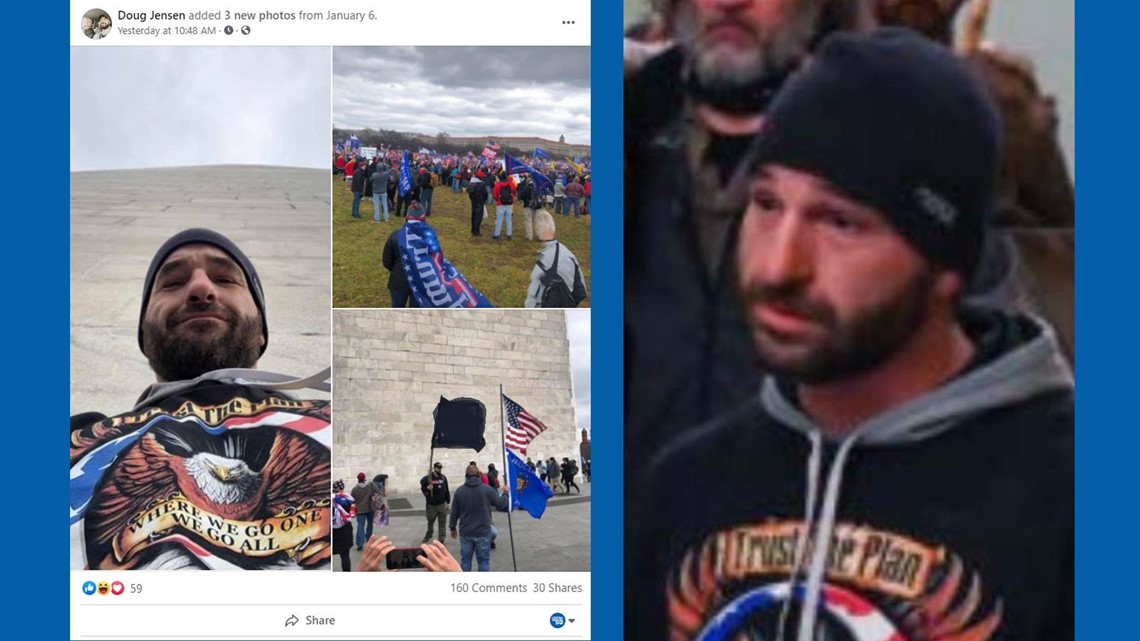 "I remember texting [my mom] like, 'What the hell is going on?' And she didn't respond all day," May said. "She didn't respond to a single thing, even days afterward."
Caroline's husband also acted unusually following the insurrection.
But Q had told followers that Biden would be arrested on live TV and Trump would reveal himself as president and declare martial law, therefore knocking down the child sex-trafficking ring.
When that didn't happen, many broke apart from the conspiracy, but those who remained grew in their intensity.
Neither Caroline's husband nor May's mom broke from it.
As their loved ones continue turning to the internet to give them more information about Q's plans, so too do Caroline and May.
They found 70,000 other members sharing similar stories about their own loved ones. As of Jan. 28, more than 115,000 people are members.
"I felt so much relief knowing that other people were struggling with the same thing as I was," May said. "Because mentally, it's so hard to wrap your head around when your parent, who you think is the smartest person you know, is not being the person you want to look up to."
When asked about hope for her marriage, Carline said she doesn't have any.
"I'm just trying to survive," she said.
However, both women are hopeful that by sharing their pain, they might help someone else.
"I want people to be aware of the absolute trauma and moment it causes," Caroline said. "And if there are some complicit actors out there, [I hope] this might prompt them to do something about it."
Both women said they are in intense therapy to deal with the stress these events have brought into their lives.
Caroline still lives with her husband, but she plans on filing for divorce.
May doesn't live with her mother. However, she wrote a letter to her that says she will not be welcomed in May's life until she is able to come back to reality. May said she doesn't know if she plans on sending it.
However, just writing the letter helped May.
Caroline and May both wondered how this happened to their loved ones. May's mom is college-educated, and May said she is very smart.
Zlatan Krizan, a personality psychologist at Iowa State University, said while certain people are more vulnerable, it boils down to having a grievance or major stress.
For a lot of people, that was when their candidate didn't win. A global pandemic only magnified it.
What makes QAnon unique in the conspiracy world
Conspiracy theories are nothing unique in today's society, but what makes movements like QAnon so unique is where the information is spread.
Local 5's Sarah Beckman reports how they mastered social media.
First Draft's fight against mis- and disinformation
Misinformation and disinformation are not going unchallenged—First Draft is leading the charge. Local 5's Stephanie Angleson spoke to Claire Wardle about QAnon's impact on the world.
How you can spot the difference between mis- and disinformation
Local 5's Elias Johnson breaks down the difference between the two.
How students are learning to spot mis- and disinformation
Local 5's Eva Andersen speaks with local school districts on how they are teaching children how to verify sources.
If you've seen anything on social media you want fact-checked, submit it to the VERIFY team below or text Local 5 at 515-457-1026.