DES MOINES, Iowa — As organizations such as United Way of Central Iowa are seeing a startling increase of food insecurity, school districts are working to keep kids fed throughout the summer.
Several school districts plan to serve breakfast and/or lunch to kids, even after the school year is over.
Below is a list of what free meal programs in central Iowa will look like this summer.
Altoona
The Southeast Polk Community School District shared details about its summer meal meet-ups, which allow all children under 18 years old to have a free summer meal.
The program runs daily from June 5 to Aug. 11, with a few exceptions: no food will be served on July 3, 4 and Aug. 3. All meals must be eaten on site.
Altoona Elementary from 7:45 a.m.-8:45 a.m. & 11 a.m.-12 p.m.
Willowbrook Elementary from 8 a.m.-9 a.m. & 11:30 a.m.-12:30 p.m.
More information on meal times, menus and guidelines are available here.
Central Iowa Shelter and Services
Central Iowa Shelter and Services is offering free meals to children throughout the summer. They're prepared at its Community Kitchen. Any one ages 18 and under is invited to receive free and nutritious meals.
More information is here.
Des Moines
Minors can grab food for free all summer long, so long as they stay on the premises to eat.
Dates open may vary, so check the full calendar before heading out, but here are the locations and times to keep in mind for Des Moines:
Brubaker Elementary
Capitol View Elementary
Carver Elementary
Cattell Elementary
Edmunds Elementary
Findley Elementary
Greenwood Elementary
Hillis Elementary
Homes of Oakridge
Jefferson Elementary
King Elementary
Lovejoy Elementary
Madison Elementary
McKinley Elementary
Moore Elementary
Moulton Elementary
Perkins Elementary
Phillips Elementary
River Woods Elementary
South Union Elementary
Stowe Elementary
Studebaker Elementary
Walnut Street Elementary

Willard

Elementary
Windsor Elementary
Hiatt Middle School
McCombs Middle School
Deer Ridge Apartments
From 11:30 a.m.-1:30 p.m.:
Johnston
Children age 18 and under eat free at two locations in Johnston through the USDA Summer Food Service Program.
The program runs from June 7 to August 4. No meals will be provided July 3 and 4.
In addition to the free meals, kids can enjoy story time and a book exchange every Wednesday.
Sterling Pointe Apartments from 11 a.m.-11:30 a.m.
The Avenue at Johnston Commons from 12 p.m.-12:30 p.m.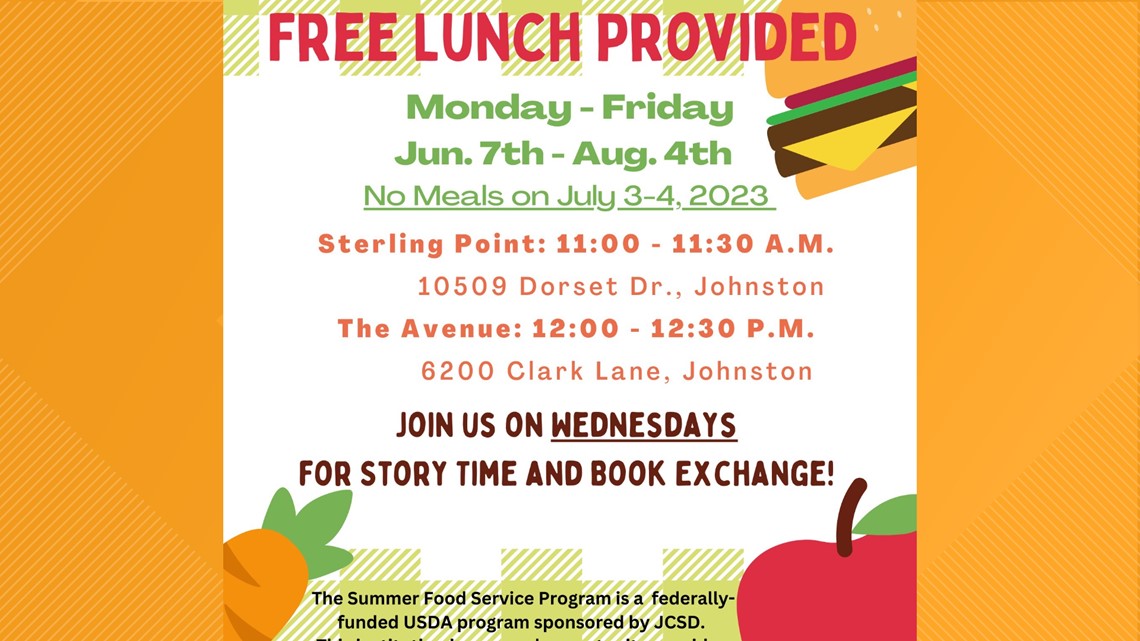 Urbandale
Operational days vary by location, but the program itself runs from June 8-Aug. 10. No food will be given out from July 3-5 across all locations.
Olmsted Elementary School from 8 a.m.-9:15 a.m. & 10:50 a.m.-12:30 p.m.
Aldersgate Church from 8:30 a.m.-9:10 a.m. & 11:30 a.m.-12:10 p.m.
Urbandale Middle School from 8 a.m.-9 a.m. & 11:45 a.m.-12:15 p.m.

Waukee
Waukee also announced its Picnic and Play program, which offers free lunch to kids under 18 as well as fun activities. The program begins June 5 and runs through Aug. 4.
Windfield West Apartments from 11 a.m.-12 p.m.
Waukee Family Townhomes (Jonas Circle) from 11:30 a.m. - 12:30 p.m.
West Des Moines
Alongside Waukee, the Picnic and Play program will also be an option for those in the West Des Moines area. Here are the times and locations kids can stop by for a free meal:
Maple Grove Villas from from 11 a.m.-12 p.m.
Sun Prairie Apartments from11:30 a.m. - 12:30 p.m.
The Lift at Jordan Creek from 12 p.m. – 1 p.m.