Twice a Victim | Confidential documents show DMPS denied transfers for alleged victims of rape, assault and bullying
Local 5 discovered documents published to Des Moines Public Schools' website two weeks ago, which were removed after the district cited a privacy setting error.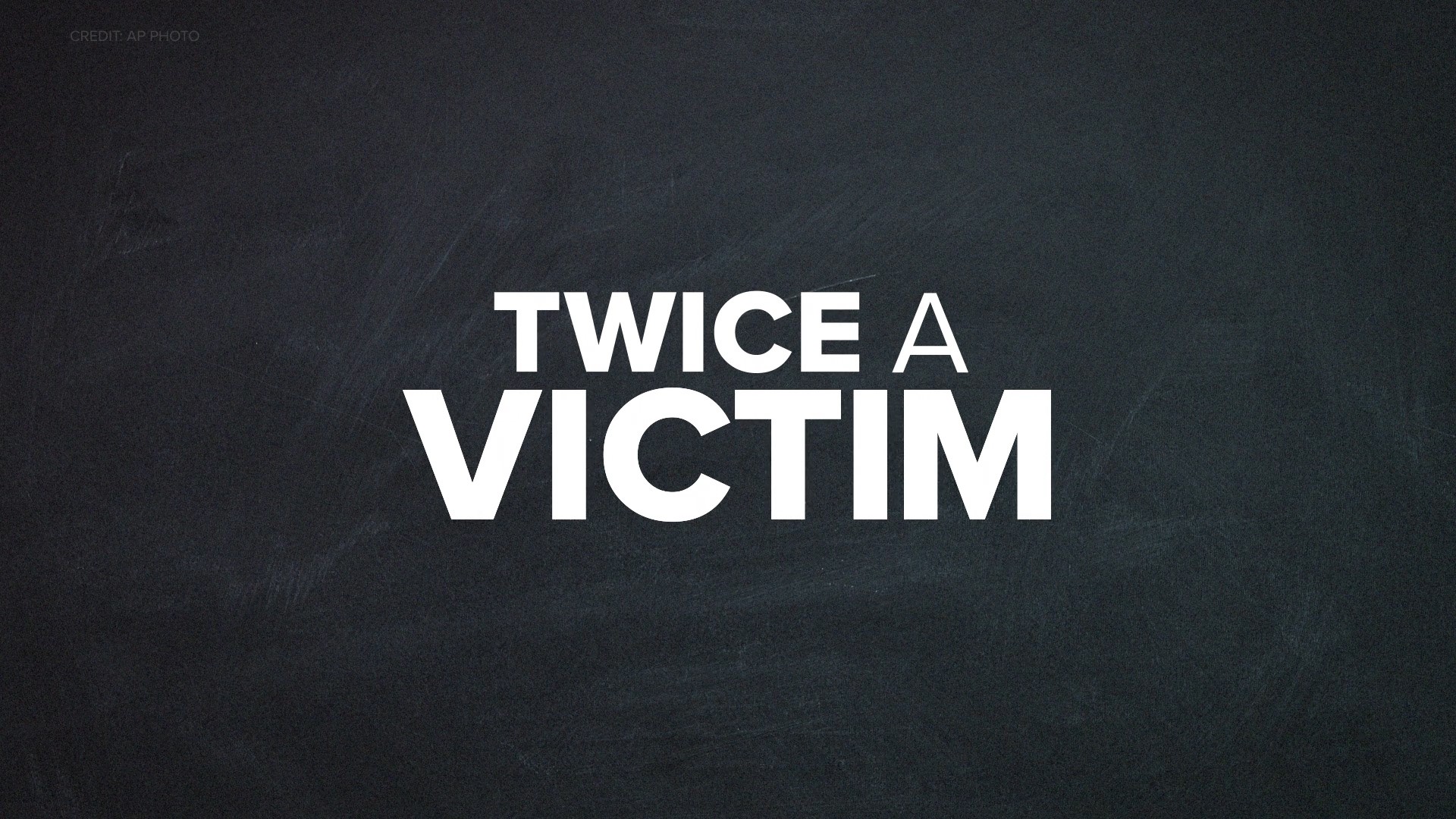 Just two weeks ago, Local 5's Rachel Droze received a tip that Des Moines Public Schools (DMPS) accidentally published students' confidential information on its website.
Local 5 initially found seven documents on the website that included names and descriptions of students requesting transfers to different school districts. Some of the descriptions identified bullying, assault and even one rape victim by name.
The tip came from Alan Ostergren, president of The Kirkwood Institute, a nonprofit focused on public interest legislation. He found the documents while researching DMPS's open enrollment policy.
DMPS spokesman Phil Roeder said publishing the documents was a mistake, telling Local 5 a privacy setting was "inadvertently changed" in February 2020 causing the documents to become publicly viewable.
The documents were removed 30 minutes after Local 5 notified the district.
Local 5 found dozens of denied open enrollment requests on the district's website. Some of the requests listed health and safety reasons for kids wanting to transfer out of the district.
In order to protect the identities of the students, Local 5 has changed the names of parents interviewed in this story.
Christine tried transferring her son out of DMPS in 2019.
"His grades went from straight A's to F's," Christine said. "My child was self-harming himself with razor blades."
A doctor recommended Christine's son move to a smaller school to help with his anxiety.
"He just couldn't handle the anxiety. There were just too many kids, too many situations," Christine said. "They offered to have him go to another middle school within the district, but it was our responsibility to get him there. And I said me and my husband both leave at 6 a.m. We don't have the means to get him to another middle school."
That's when Christine said she realized DMPS wasn't going to let her son go.
"She said, 'It doesn't matter if you have a doctor's note or not. We're not releasing him,'" Christine said. "We finally just had to build a house and move out of the district. That's the only way we could get out."
Christine isn't alone. Eileen, another mom, told Local 5 her child was being severely harassed.
"I felt like they failed her," Eileen said. "When I didn't get a response back immediately within five days, I packed everybody up and we moved."
"These kids that were harassing her even came to our home," Eileen said.
Another mom, who Local 5 is referring to as Samantha, said she started paying for private school for her child.
"How far is this little girl's anger going to go towards my daughter? I don't know what happened after I pressed charges," Samantha said.
Samantha said her daughter was afraid to go to school because she had been assaulted and was being bullied.
"She was actually being told at school that if she went back to school she was going to, she was going to get out again," Samantha said.
Samantha is still working to get her daughter out, even requesting it again for high school.
"I'm requesting it again because, how safe is she?" Samantha said.
If her daughter isn't approved, Samantha said her family will have to figure out how to pay for her high school education, which totals between $8,000 to $12,000 per year.
Not everyone is able to enroll in a private school.
Robert and Ashley requested to move their son, a third-grader, to a different district because he was suffering from severe anxiety, stress, nightmares and panic attacks.
"The anxiety was so bad for him that he'd wake up knowing he had to go to school and throw up," Robert said.
"It's heart-wrenching to drive your kid to school and see the tears coming from their eyes and to hear the panic in their voice and say, 'I have a stomach ache. I can't go,' and know exactly why he has that stomach ache and still having told him, 'I need you to try to go to school. I need you to try to do this,'" Ashley said.
Robert and Ashley said the depression and anxiety their son experiences are a direct result of when another student allegedly choked him in first grade.
"He was telling a kid to be quiet. And because he was going to get their table group in trouble. And that's why the kid choked him," Robert said.
According to records, DMPS denied their request to transfer because the school has "not been notified about any concerns" and "The teacher who witnessed the confrontation did not see the student choke" their son.
But the document doesn't match the story Robert and Ashley heard from the teacher.
"Even what it says that the teacher said she didn't see anything. That's not what she told us and that's not what she told [him]," Ashley said.
In fact, the first time Robert and Ashley heard about the documents and reasons for the denied request was during a phone conversation with Local 5's Rachel Droze.
"We never got a denial letter or anything stating what you had read for the denial," Ashley said. "We never received any of that."
Local 5 spoke with eight families whose open enrollment requests were denied.
All were told DMPS can accommodate their request, but almost all the parents Local 5 spoke to disagreed with that conclusion.
Local 5 has reached out to DMPS to request interviews with Supt. Thomas Ahart to ask how this happened and to learn more about the district's open enrollment process.
Instead, the district has sent statements through email.
Local 5 discovered more names on documents that appear to violate privacy laws during this investigation. More information will be made available as Local 5 learns more.
Chapter One
:
Why can't the kids transfer?
Local 5 looked into DMPS's open enrollment process and couldn't find all of the answers, but learned parents need to submit their open enrollment application between July 1 and March 1 to be eligible to enroll the following school year.
After combing the DMPS Open Enrollment policies and procedures, no protocol could be found that outlines how soon parents can expect a response from the district or even how that response is communicated.
Local 5 reached out to the district earlier this week to find out how they notify families. On Thursday, the district said they mail a letter with the decision the day after a family's case is reviewed.
For open enrollment transfers within a school district, two things can happen if a request is deemed eligible: automatic approval or the student's name is added to a randomly generated waiting list for the next school year.
Students with siblings already at the requested school get priority.
If a request is denied, the parents have to resubmit again next year.
For students trying to transfer out of a school district entirely, applications must be submitted to both the current and the requested school district.
The district said parents are allowed to provide whatever documentation they think will help their case. They may also attend school board meetings to testify in-person.
Two families Local 5 spoke with said they never heard if their case was approved or denied.
Chapter Two
:
How can DMPS deny the open enrollment applications?
DMPS has an extra hurdle for students wanting to transfer, and it boils down to diversity.
DMPS's "Diversity Plan" says there has to be a certain ratio of students in each school who qualify for free and reduced lunch compared to those who don't.
Each year, the district determines student demographics to compare how many kids are and are not eligible for free and reduced lunch to determine if a school building will allow open enrollment.
If a student wants to come into or leave the district, there's a chance they will be denied. That's because the diversity plan requires schools to maintain a certain socioeconomic ratio.
The same is true for students wanting to move to a different school within the district.
According to the district, having this plan is key for giving all kids equal opportunities to learn and grow. Initially, DMPS and other schools across the county used only race as their diversity plan metric.
That changed in 2007 when the U.S. Supreme Court ruled it as unconstitutional.
After the ruling, the Iowa Department of Education allowed districts to adopt diversity plans based on more than race, including socioeconomic factors, English language learner status and ethnicity.
DMPS is one of five districts in the state with a diversity plan.
Over the last five years, the district has seen increases in students transferring to different schools in the district or leaving the district altogether.
The district now has 1,586 fewer students than five years ago. The largest drop-offs happened in the last three years.
Overall enrollment is declining for new students coming to the district.
According to the most recent enrollment report, the district is down by 1,167 students from last year. However, parents may have decided to withdraw their children due to the pandemic.
Some of those students are expected to return to DMPS next year.
In the last four years, 1,438 students wanted to leave their school and go to a different one within DMPS. Of those applications, 38.27% were approved.
This year alone, 354 students applied for a transfer, and 59.04% were approved.
An important note is that transfers within the district don't impact state funding— it's when students leave the district that the money goes away.
Local 5 found DMPS receives $7,096 per student from the state on average. If 1,167 students were to leave, the district could lose $8.2 million from its budget.
Chapter Three
:
Why were the documents published?
DMPS told Local 5 a privacy setting was "inadvertently changed" in February 2020 that caused the documents to become publicly viewable.
DMPS spokesman Phil Roeder sent the following statement to Local 5 on Jan. 28:
"This was a mistake. These documents were to be only seen by the School Board as part of their work in reviewing open enrollment appeals. Unfortunately, when these documents from the 2019-20 school year were moved to a folder in our online system they were not properly flagged to remain private. The documents have now been removed from that web site. We will be reaching out to the families to explain what happened as well as reviewing our own procedures to see if any changes should be made that could help prevent a similar mistake."
Chapter Four
:
What is the law?
So, did DMPS violate any laws?
Not all information is protected— a student's name, address, phone number and date of birth can be shared without consent.
Mike Hiestand, senior legal counsel at Student Press Law Center, said the documents published by DMPS could be considered as education records.
However, the likelihood of the district being penalized is low because the penalty is very extreme — a loss of all federal funding.
"There is no private cause of action under FERPA. You can't take your school to court. The mechanism is to go through the Department of Education. File your complaint with them," Hiestand told Local 5. "They do an investigation and then they decide whether they're going to exercise this nuclear option — which they don't — or whether they're gonna send the school a letter that basically says, 'You guys need to clean up your act.'"
There are paths to filing civil suits if private documents are made public without the owner's permission.
"Everybody has a right to privacy and every state, Iowa is going to be one of them, has their own sorts of remedies for going after invasions of privacy," Hiestand said. "In that case, there would be a private cause of action that these individuals might be able to pursue."
The same day Local 5 broke this story, lawmakers expressed their anger on the floor of the Iowa Senate.
Sen. Brad Zaun, R-Urbandale, said DMPS should have never denied an alleged rape victim's request to leave the district.
"It disgusts me. I cannot believe this happened. I am suggesting to the residents of Des Moines to demand a resignation of their Superintendent Thomas Ahart," Zaun said. "The School Board needs to be replaced. The only way you can replace them is at the ballot box. I have never been so mad."
Republican lawmakers are working to remove voluntary diversity plans from even factoring into open enrollment decisions. One bill passed the Iowa Senate 26-21, and another bill from the Iowa House passed last week 56-32.
Both of those bills must pass the other chamber before heading to Gov. Kim Reynolds' desk for signing.
The ACLU of Iowa, Area Education Agencies of Iowa, NAACP, Iowa Safe Schools and the Iowa State Education Association have all declared their opposition to one or both of the bills.
The ISEA said students thrive when they learn in a diverse and inclusive environment and a diversity plan strengthens school districts by working to prevent segregation of all types, including income or socioeconomic based segregation.
Have a story about Iowa open enrollment rules and enforcement you want to share with Local 5? Fill out the form below, email news@weareiowa.com or text us at 515-457-1026.