IOWA, USA — Gov. Kim Reynolds' full press conference for June 10, 2020 can be viewed above.
Starting Friday morning, Iowa's 50% capacity restriction on businesses will be lifted, but social distancing will still be required.
Gov. Kim Reynolds announced the extension of the State Public Health Emergency Declaration at her Wednesday press conference at the Iowa State Capitol.
The proclamation is scheduled to expire on June 25 unless Reynolds decided to terminate it completely or extend it further.
"Eliminating the capacity restrictions will allow businesses the flexibility to adjust their specific operations accordingly to best meet the needs of their employees and customers," Reynolds said.
All businesses are included under this new proclamation, according to Reynolds.
The governor is expecting Iowa businesses to keep up with the guidance provided, specifically social distancing by staying six feet apart from others.
"But I think what you'll continue to see is again businesses want to do the right thing they want to make sure that they're protecting their employees as well as their clients and so I have full expectation that the majority ,you know, you always have some people that don't, but the majority will do everything they can to continue to open up in a safe and responsible manner," Reynolds said.
Senior centers and adult daycare programs will also be able to reopen if they comply with specific guidance issued by the Iowa Department of Public Health.
Reynolds noted that these establishments will need to implement "reasonable measures" to ensure social distancing, increased hygiene practices and other public health measures to reduce the risk of transmitting COVID-19.
Reynolds said the decision to reopen was made on looking at recent trends. Over 232,000 Iowans have been tested for the virus since TestIowa opened in April.
Local 5 went back through the data from the Iowa Department of Public Health and found there was a spike in new cases just 11 days after.
Deaths also peaked following restaurants reopening. The IDPH reports that 19 Iowans died on both May 22 and 24.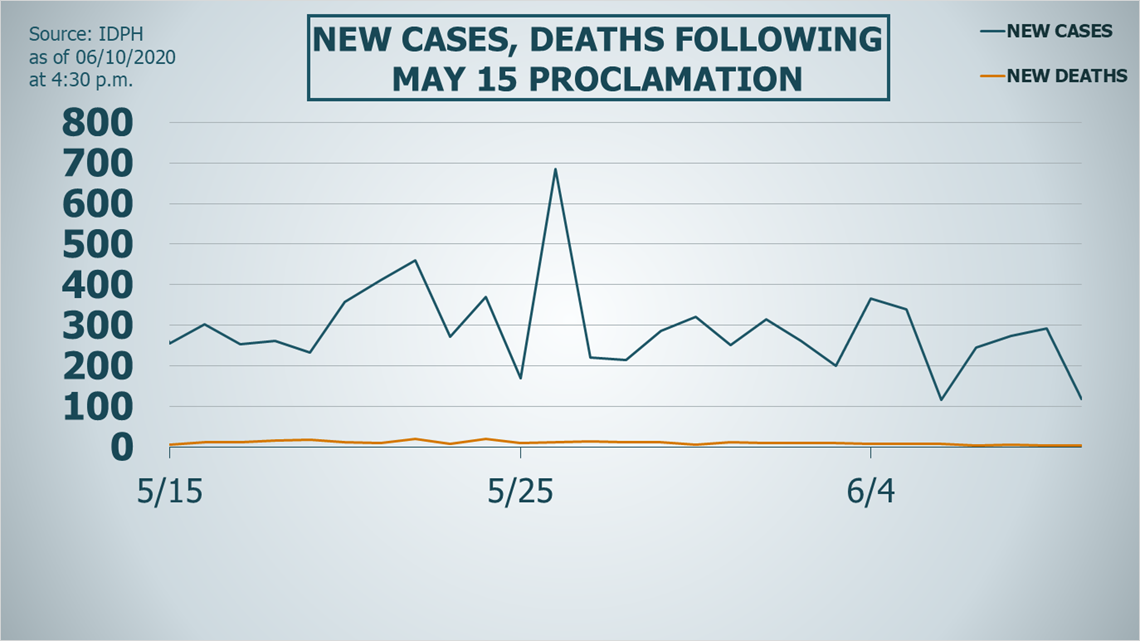 Dr. Caitlin Pedati, State Medical Director and epidemiologist, reminded Iowans that the virus is still here and you should take all of the necessary precautions to keep yourself safe and healthy.
"I want to encourage everybody to stay informed and to continue to use good personal protective measures to help to limit the spread of this virus," Pedati said.
"It's important to remember that any Iowan that falls into a high risk group, so that's going to include people who are older older than 65, people who have underlying conditions like chronic lung disease or serious heart conditions, individuals in those groups are still going to want to stay home and avoid group settings as much as possible in order to protect their health," Pedati said.
The Iowa Department of Public Safety, Department of Public Health, Department of Education, Department of Homeland Security and Emergency Management, Department of Transportation and other state agencies are directed to monitor the operation and implementation of the new proclamation "to assure the public's health and safety."
Read the new proclamation below:
WATCH: Complete coronavirus coverage on Local 5's YouTube channel