DES MOINES, Iowa — Iowa leaders said they've fixed a glitch in their system that caused coronvairus testing data to be inaccurately reported.
Gov. Kim Reynolds said Thursday during a press briefing the error happened because of the state's aging IT infrastructure.
"The credibility and accuracy of our data is a top priority," Reynolds said.
She said reasons like this are why state departments need their technology updated.
If a person got tested more than once, their most recent test result was attached to the date they first got tested.
So, for example, if someone tested negative in May and positive in June, the state's reporting system attached the positive test result to the May date.
"The overall numbers didn't change," Reynolds said. "They were the same. What it did do is that it impacted the percentage counties and it took the positivity rate down a little bit."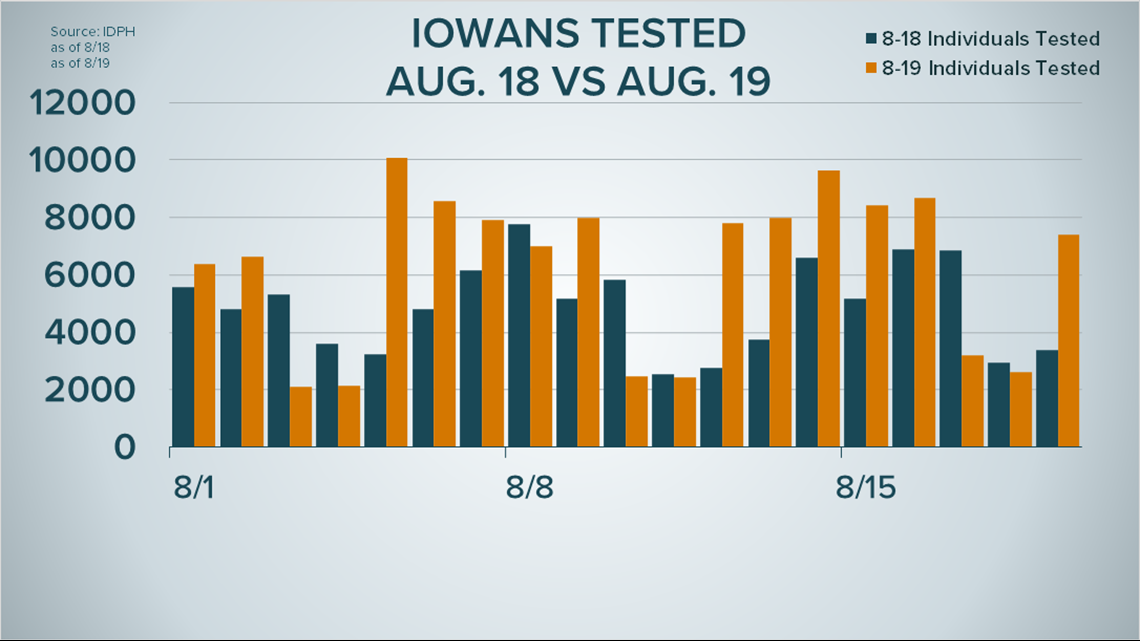 The state only announced this glitch after the Associated Press spoke to a nurse practitioner in Iowa City who said the Iowa Department of Public Health (IDPH) was accidentally reporting fewer new infections and a smaller percentage of daily positive tests than what there actually are.
Reynolds said thousands of people in Iowa have gotten multiple COVID-19 tests, which means a large number of results were impacted.
The date of positive and negative tests matter because it impacts decisions government leaders make and also, whether or not schools can meet for in-person learning.
Reynolds said the state's positivity rate stayed the same after they corrected the mistake.
It was at 9.4% before and sits at 9.4% Thursday.
She said 79 counties will see lower 14-day positivity rates now that the glitch has been fixed.
Reynolds said she found out about the problem last week.
Pedati said the system isn't perfect and, unfortunately, mistakes will be made and they'll have to be corrected because Iowa reports COVID-19 data in real-time.
"I know this is hard, but as we move through this response, we continue to look at our processes and our tools and we have to make adjustments and we have to be flexible and adjust as we move along," Pedati said.
IDPH said changes at that time were being made to "de-duplicate" data.
Reynolds announced Thursday that the State Hygienic Lab updated testing criteria so K-12 students and staff can be tested at their local health care facilities.
WATCH: Gov. Kim Reynolds' full press conference from Aug. 20, 2020
Recovering from the derecho
"When the Iowa National Guard or Alliant [Energy] has cleared debris in your area, please don't refill it with new debris until power restored to you and your neighbors," Reynolds said Thursday.
Reynolds also said14 school districts have reported damage to the state.
She said she plans to release an updated proclamation Friday allowing districts impacted by the derecho to move to primarily remote learning while buildings are repaired.