Elder Iowans will be able to call 2-1-1 to speak with a "vaccine navigator" who will ask the person some questions and take basic information to schedule an appointment at a nearby Hy-Vee pharmacy.
You cannot call the number to schedule an appointment yet. Staff will not be able to do that until the week of March 8.
"It's important that Iowans understand that this service is only for adults aged 65 and older who are truly in need of scheduling and scheduling support," Reynolds said. "It's intended to help those who don't have access to a computer or aren't comfortable using one, individuals who may not have anyone who can assist them, or for others who have tried every way to get an appointment but still haven't been successful."
Iowans should know that vaccine navigators will only ask them to confirm their birthdate and county of residence.
"They will not ask you for your health insurance information, Social Security or credit card number," the governor added. "These items are absolutely not necessary to schedule an appointment."
The vaccines are provided free of charge. You should not have to pay anything for it.
According to Reynolds, the state will not create a centralized scheduling and registration system online but is preparing to launch an informational site on the vaccine Friday.
NOTE: The link above for the informational site may not be active until Friday
This website will only be used for informational purposes, meaning registering for or scheduling for appointments is not possible.
"What we're doing is we're working with our existing providers so this will be kind of a one-stop-shop that you'll eventually be able to go on, similar to what they're doing nationally," Reynolds said. "Put in your zip code, it'll tell you a provider's within a certain range, and then you'll be able to schedule directly through their website."
State estimates 70% of Iowans 65+ will have received at least 1 dose by mid-March
The Centers for Disease Control and Prevention (CDC) reported Iowa has administered nearly 622,000 doses to eligible Iowans 18 years and older. Reynolds said 19% of all eligible Iowans have received at least one dose so far.
"And 271,000 Iowans aged 65 and up have had at least their first dose, and that's nearly 53% of all Iowans in this age group," she noted.
"Now that vaccine supply is increasing our administration rates are steady and allocations are provided weeks in advance, we're finally able to generally answer the question that so many Iowans are asking, and that's 'When is it my turn?'" Reynolds said. "We can now project when eligible populations can reach critical vaccination milestones and when we might expand access to the next priority groups."
Reynolds said essential workers and individuals with disabilities living in group home settings are expected to start their vaccination process in early March and achieve 70% vaccination by mid-April.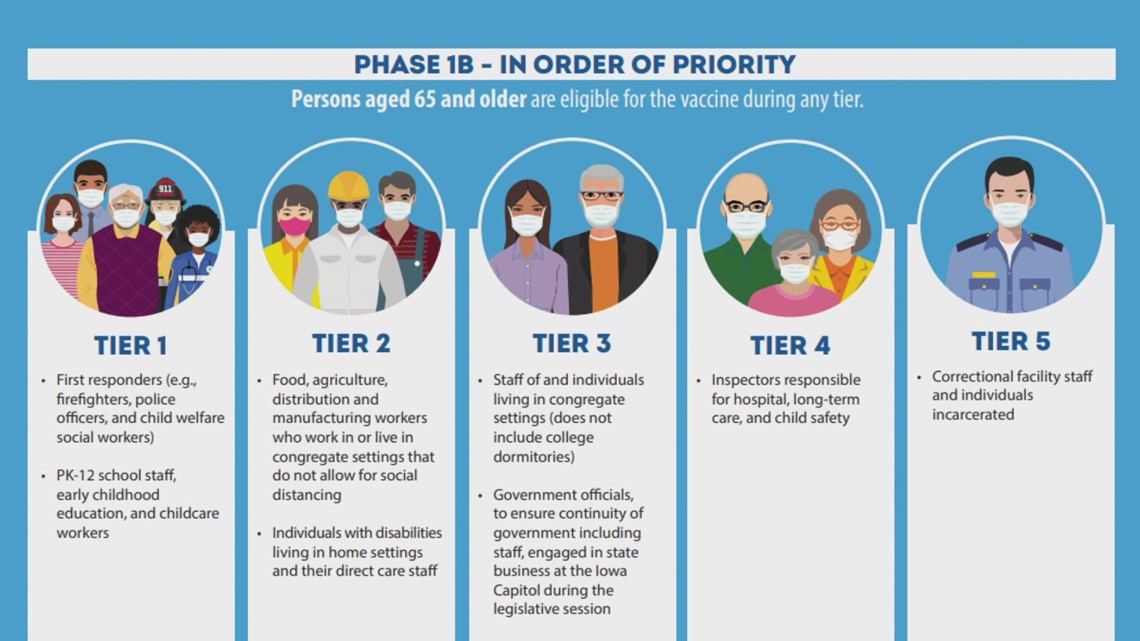 "But I want to reiterate that projections are just estimates and these are intended to provide Iowans with a sense of how long it will take to vaccinate each population and when vaccine could open up further," Reynolds said. "They're not hard dates and some areas at the state will be able to transition to their next eligible population more quickly than others."
During the White House's weekly COVID briefing for governors, Reynolds learned the country is back on track after experiencing shipping delays that resulted in six million doses being backlogged.
"Since the weekend, more than 15 million doses were shipped nationwide. We were told on the call that the backlog will be cleared as of yesterday and the current allocation should be completed by tomorrow," she said.
The Jonson & Johnson vaccine is still waiting on approval for emergency use, but they're already working on distribution plans. The governor said the manufacturer is anticipating that two million doses will be available nationally.
Reynolds said her administration confirmed the state will receive 25,800 doses of the Johnson & Johnson vaccine next week if it's approved.
Watch: Gov. Kim Reynolds' full press conference for Feb. 25, 2021
More coronavirus coverage