DES MOINES, Iowa — Several central Iowa businesses and venues have updated their COVID-19 policies since the CDC released new guidelines recommending even vaccinated people wear masks indoors in parts of the U.S. where the coronavirus is surging.
This now includes the entire state, indicated by the orange and red areas on the map.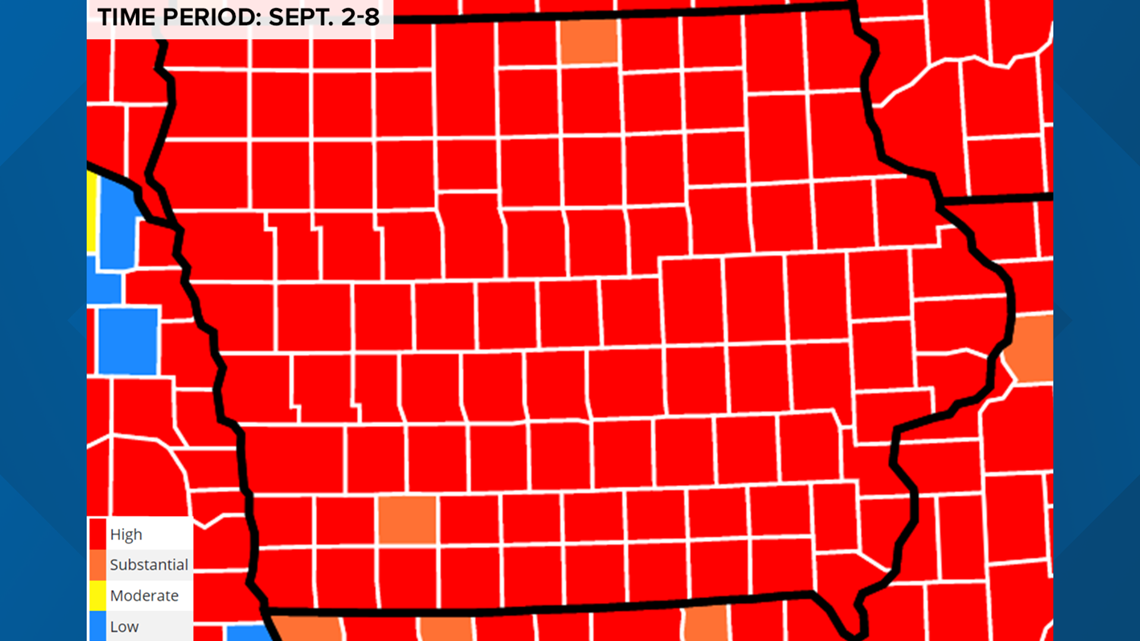 Counties in orange represent areas of "substantial" community transmission of the virus (50-99 cases per 100,000 people the past seven days), while counties in red are those with "high" community transmission (100 or more cases per 100,000 people the past seven days).
Blank Park Zoo
According to the zoo's website, masks are only required for some of the animal experiences, like feeding giraffes and goats.
Community Christian School (Fort Dodge)
CCS will be closed for cleaning and disinfecting from July 29 through Aug. 4 due to an uptick in COVID-19 cases among students and staff. The school has not announced any policy changes.
City of Des Moines
Des Moines is requiring masks in all city buildings for staff and visitors, including anyone attending city council meetings.
Des Moines Performing Arts
DMPA will require all guests to show proof they are fully vaccinated or have recently tested negative for the virus beginning Sept. 25. A negative PCR test will be valid if taken within 72 hours of the performance, while a negative antigen test administered by a health care or pharmacy provider will be valid if taken within 24 hours. Guests also must wear masks at all times except while eating or drinking in designated areas.
Drake University
Drake is still requiring masks in campus buildings, but in June the university removed the requirement for mask-wearing while outdoors on campus. The campus will otherwise return to normal operations in August with in-person classes and social distancing not required.
Hy-Vee
Hy-Vee is not requiring masks, but continues to "strongly encourage" customers to wear masks. Employees who are vaccinated are not required to wear masks.
Iowa Cubs (Principal Park)
Principal Park is not currently planning to change its policies, because the CDC guidelines relate to indoor activities.
"With us being an outdoor venue, or shared indoor/outdoor space with our suites, we have not gotten any word that we need to change our policy," a spokesperson for the park said.
Iowa State Fair
Masks are recommended, but not required, at the state fair this year. Hy-Vee will offer on-site COVID vaccinations outside the main gate on Grand Ave.
Prairie Meadows Casino and Hotel
Prairie Meadows will bring back the face mask requirement for guests and employees beginning Aug. 1.
"We just think it's a good protection for our employees and our guests if we're proactive and reactivate the mask requirement," Prairie Meadows President & CEO Gary Palmer said.
Polk County will require masks in county buildings starting Aug. 9
Iowa's largest county made the announcement Friday, Aug. 6. Masks will be required for all staff and visitors in county buildings.
A release from the county says until the community can reach a 75% vaccination rate and transmission drops to a moderate level, masks will "remain an effective tool in reducing our collective risk of hospitalizations and death, particularly in our unvaccinated population of children."
The county is also hosting vaccine clinics for the week of Aug. 9 from 12:00 to 7:00 p.m. Monday through Thursday . Those who attend the clinic will receive 2 free state fair tickets and a voucher for a meal.
Science Center of Iowa
The science center will require masks again for all visitors and employees beginning Aug. 1, citing an increase in cases in Polk County and in the state.
Simpson College
Simpson College reinstated its mask mandate for everyone, regardless of vaccination status, Aug. 10. The school said it will re-evaluate this decision Sept. 10.
Simpson said the current vaccination rate for full-time students is 50%, which is substantially below the goal of 80% set last spring. However, the college said reaching 60% would allow them to remain in the "yellow operating phase."
The Slow Down Coffee Co.
The Des Moines coffee shop posted to Facebook about their growing concerns over COVID-19, saying, "here we are."
Starting Aug. 4, The Slow Down Coffee Co. will require face masks.
Story County will require masks in all county buildings starting Aug. 11
All visitors of Story County buildings over the age of two will be required to wear a face mask regardless of vaccination status starting Aug. 11, the county announced Aug. 10.
Masks won't be required for those with disabilities that prevent them from wearing one.
The requirement is due to the increase of the Delta variant. The majority of Iowa counties are considered high transmission areas, according to the Centers for Disease Control and Prevention.
Walmart
Associates are required to wear masks indoors in counties with substantial or high community transmission.
WATCH: Iowa summer camp shuts down over COVID cases among staff as doctors urge FDA to approve vaccines