DES MOINES, Iowa — A shooting on Court Avenue in Des Moines over the weekend marks the third shooting in that area in the span of three months.
"The evidence we have indicates the suspect had been in an altercation somewhere inside the Entertainment Zone," said Sgt. Paul Parizek with the Des Moines Police Department. "It appears that he left the area, came back with a gun, tried to confront the people he was in an altercation with, fired off a round and struck two bystanders."
According to the Des Moines Police Department, there have been five confirmed shootings and one confirmed report of shell casings being found in the Court Avenue Entertainment District since November 2015: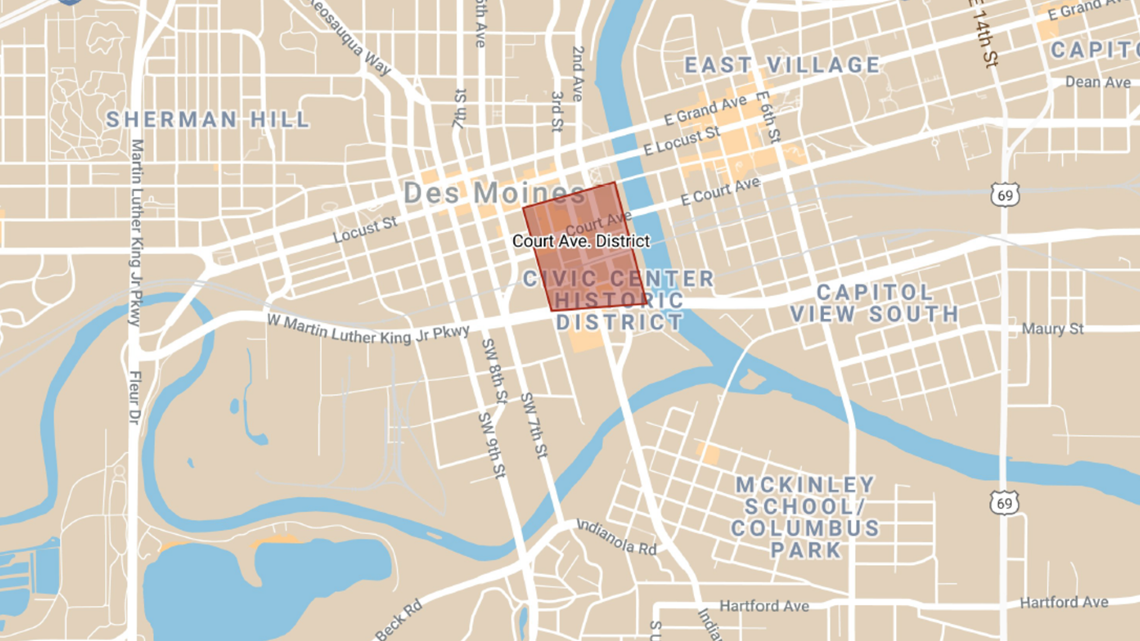 Community members and business owners in the area say everything that has been happening is concerning.
One man said the scene outside of the fence on Court Avenue Sunday morning was chaotic. The inside of the fence the atmosphere appeared to be safe, but outside there were fights and he described the scene as "having disruptions."
Matt Heiller, another man who frequents the Court Avenue Entertainment District, said hearing of the third shooting is concerning. During the April 10 shooting, he and his friends were in a bar on Court Avenue and they were ushered out of one of the bars as a safety precaution.
"Surprised honestly," Heiller said. "You really don't expect that kind of stuff in this area."
Tipsy Crow is located about a block from where the shooting happened.
Owner Steve McFadden said his bar has never had any incidents like those shootings at his business, and noted having three shootings not far from his bar is scary.
He said when the sounds of shots being fired were heard around 1 a.m. Sunday, his bartenders immediately stopped serving drinks and asked everyone to move as far in on the property as they could.