How far would you go to protect your family?
What if the person trying to take your daughter away was your own father and the one trying to take your granddaughter was your own son? And what if one of them had a badge and a gun?
It's a case of how Georgia's new "Grandparents Right Law" has torn one family apart.
There's a lot of love for a little girl.
"When I held her the first time, everything changed," her father Brandon Roberts said. "I knew I'd do anything to protect her. Definitely a daddy's girl."
It's an emotion felt by both Brandon and the child's grandfather Dale Roberts.
"The day she was born, I promised her I would always be there to love and protect her," he said.
Crickets chirp outside in the dark as Dale continues an ongoing project – working on a dollhouse for his granddaughter.
"This is a dollhouse that I started building for my granddaughter February of last year. I've got almost 700 hours in this thing," he said. "I just hope she gets to play with it one day."But it's not quite that simple.
"We advised him that he could come see her at our house, but we did not feel safe with her going over there by herself anymore," Brandon said.
Brandon said his father had become obsessed with his daughter and so he cut off contact. And the grandfather responded.
"He was going to do everything in his power to ruin us," Brandon said.
The grandfather, Dale, put his response in writing.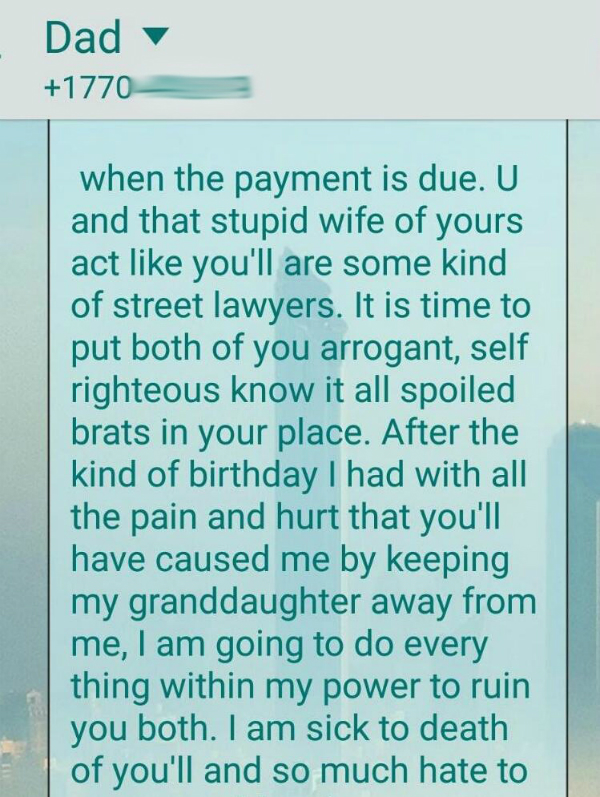 "The pain and hurt you have caused me by keeping my granddaughter away from me, I'm going to do everything within my power to ruin you both,' the message read.
Dale admits to writing it.
"It was said in anger," he said. "Um, I wanted my granddaughter back, and they took basically what I live for."
But the child's father believes there is more to the story.
"I believe he wanted my family to be unstable," Brandon said. "So, he could show the court that we were unstable; so, in order for him to get custody."
An example of his theory: Brandon said there was an anonymous call to his previous employer, Delta, telling them he was on drugs. It was true - but they were prescribed.
"I had back surgery in 2013, and took pain pills after that, was prescribed," he said. "Got addicted and started taking methadone to get off the pain pills."
Brandon said that he had a good job with the company and that his income almost doubled in a few years. He believes his father was behind it, though Dale denies that.
"I hated that he lost that job because it was a great, great career - he made good money," Dale said. "He made good money to support his family, but he made a bad mistake."
An empty rocking chair in front of him, Dale teared up during 11Alive's interview.
"I don't know how many hours we spent in that chair together," he said crying. "All I could do is sit there and cry because -- I didn't know if I'd see her again."
Dale sued his own son under Georgia's new "Grandparents Right" law. And Brandon got a copy of his father's private journal through discovery.
Dale originally denied the very existence of the journal in legal documents and initially did so in the deposition before admitting that it existed. He went on record saying he did not want the son nor the court to see it.
Brandon read aloud the words his father had wrote: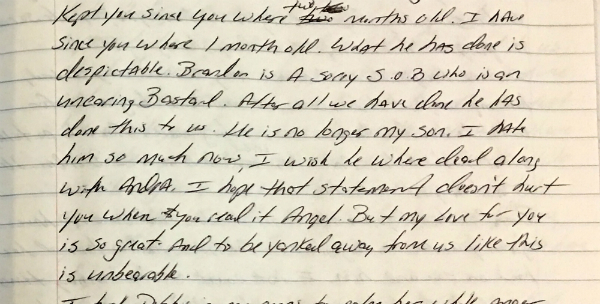 "Brandon is a sorry son of a b**ch who is an uncaring bastard - he is no longer my son. I hate him so much now. I wish he were dead."
So does Dale really want his own son dead?
"Not really," Dale said. "I was speaking out in anger and I hated my son. I really hated him for what he done - for what he has done."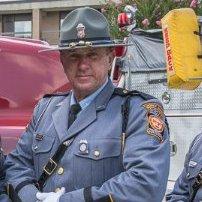 But Brandon also mentioned what his father, Dale, does for a living.
"He is a Georgia State Trooper," Brandon said.
Trooper Dale Roberts wrote something else in his journal about his son.
"I hate Brandon so bad I could put a bullet between his eyes and not blink," Dale wrote. His son read it aloud.

This was the only segment of the journal admitted as evidence by Judge Ben Miller, who later recused himself from the case.
11Alive asked Dale, a man given a gun and trained by the state of Georgia, about those words.
"These words were spoken, or written, in anger," he said. "And there's been plenty of words written in anger since this situation began."
He denies wanting to hurt his son.
"He told the court that the journal was full of his love for my daughter," Brandon said. "When, in fact, he was writing stuff about killing her father."
Still, a Spalding County judge ruled in favor of the grandfather ordering Brandon to hand over his daughter to Dale two weekends every month - and two full weeks in the summer.
The grandfather alleged that he was a primary caregiver during the first couple of years of the child's life - a claim the father disputed but lost in that court ruling.
"It was a parent's visitation, that he got," Brandon's wife Stephanie said. "He got more than the biological mother originally got for visitation."
So, a parent can sue their own estranged child to get essentially shared custody of a grandchild?
"As a step-parent, even if I were to adopt, he would still have more rights than I would - which is crazy," Stephanie said.
Brandon, feeling boxed in, felt he had only one choice – to move.
"To leave the state," he said.
Stephanie and Brandon packed the kids in the car and drove, leaving Georgia - and Dale - in their rearview mirror.
They crossed the Iowa border and kept driving deep into the rural heartland.
Brandon admits he picked their new home because he knew it would be hard to find.
"Or, we figured it would be hard to find," he said.
"They were hiding out, quite literally, in the middle of nowhere. Surrounded by Iowa bean and corn fields, no one for miles around. But, somehow, Trooper Roberts tracked them down.
"I hired two private investigators," Dale said.
Sheriff's deputies in Iowa were asked to serve Brandon with papers for contempt of court, the attorney's letter clearly stating that his client was a Georgia State Patrol Trooper.
"I answered the door and the cop was very aggressive," Stephanie said. "And I'm not used to people talking to me like that. He was very aggressive, and I instantly knew that someone had said something."
Brandon said the officer drew his Taser.
"No, he had an attitude from the get-go," Brandon said.
He thinks his father may have done something to bring that reaction about.
"I believe it was because he called them and spoke with someone at the sheriff's department," Brandon said.
Dale admitted to telling the sheriff's office that he is a Georgia State Trooper. The mention had no relevance to the civil case at hand.
"Just personal preference," he said. "It's the way law enforcement people are. We mingle and I go to a lot of funerals for troopers that's been killed out of state - and we just introduce. Professional courtesy, basically."
Back in a Georgia courtroom, the grandfather showed up, but his son did not. Dale's attorney requested in court that Brandon be found in contempt and incarcerated.
But Brandon's attorney countered.
"Shooting somebody in the head, uh, threating to kill or murder, uh, his son or his son's wife in order to get custody?" the attorney said. "I might have moved to Alaska if it had been me."
Trooper Roberts came with a new piece of evidence.
"I took my daughter for my family's f***ing safety and we moved to Iowa because you planned to kill us like a piece of s**t cop you are," Brandon said in a voice message to his father. "The NAACP is going to read what you put in that f***ing journal about n***ers and I cannot wait until the day your a** goes downhill for you've done. You f***ing racist pig."
The recording clicks as Brandon hangs up the phone. He was talking about another line from his father's journal.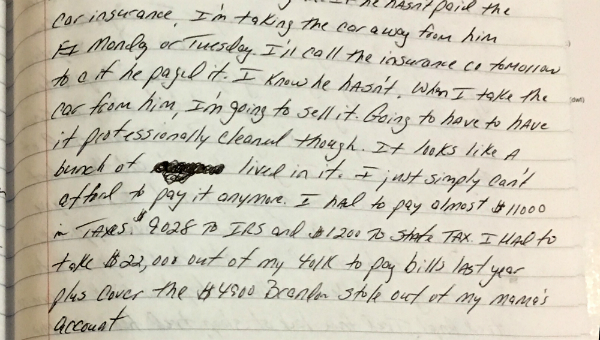 "When I take the car from him, I'm going to sell it," Brandon reads from his father's journal. "Going to have to have it professionally cleaned though. It looks like a bunch of (bleeps) lived in it."
There's a word scribbled out there. We asked Dale what it was.
"Umm, no sir, 'idiots?' No," he said.
We elaborated that there appears to be two g's in the middle of the scribble.
"I know where you're going," Dale responded. "But no sir."
He continued to deny use of the "N-word" in the journal.
"It could have been idiots, I don't know, but it is not that word," he said denying that he uses that word.
The trooper later admitted to us in writing that it was the N-word. He said he scribbled it out so his granddaughter wouldn't see her "Papi" as a racist.
"I'm not perfect - never have been perfect," he said. "I'm probably one of the furtherest people from ever being perfect. But if I was perfect at anything, it was being a grandfather to my granddaughter."
Trooper Roberts is now suing for full custody of his granddaughter.
His son Brandon has filed a motion to take the custody case out of Georgia because both biological parents now live out-of-state.
So, did the judge order the father of the little girl jailed for contempt of court?
He did, but Brandon isn't going to jail just yet. His lawyer appealed the judge's contempt order and it's stayed pending appeal.