MARION, Iowa — First written in 1987, one check may have taken a trip across Iowa Friday.
The sender? A tornado that touched down near Hedrick, Iowa, around 3:40 p.m.
Nancy and Clarence "Leroy" Sanders' farmhouse was destroyed as the storm barreled through the rural area — and the more-than-30-year-old check might have been blown away in the wind.
That's what Joe Swisher in Marion thinks, anyway.
Swisher found it in Linn County as the storms passed, meaning that slip of paper could have traveled around 95 miles this afternoon.
And Swisher wasn't the only one to stumble across something from the Sanders' house.
Five miles north of Mount Vernon, a couple found another check — this time from 1989.
"I know strange things happen with tornadoes and big winds and everything, but to think that it had gone that that far? I plugged it in on Google Maps, just to see how far it was between and it was about 70 miles," said Heather Innis, who found the check.
Kelly Bult in Cedar Rapids also stumbled across one of the Sanders' bank statements, nearly 90 miles away from the farmhouse.
"I brought it inside and it was wet. So, we put it on a piece of clean paper to try to dry it and unfold it as best we could," Bult said. "And I saw the name, and so I went back to our posts and I was like, 'I think that's the same name.'"
For Innis, the connections coming to light through these documents is one she'd never expect.
"It's a little astounding, and possibly a little scary, how much you can find on the internet to connect," Innis said.
To read more about the Sanders' situation and the damage Friday's storms caused, click here.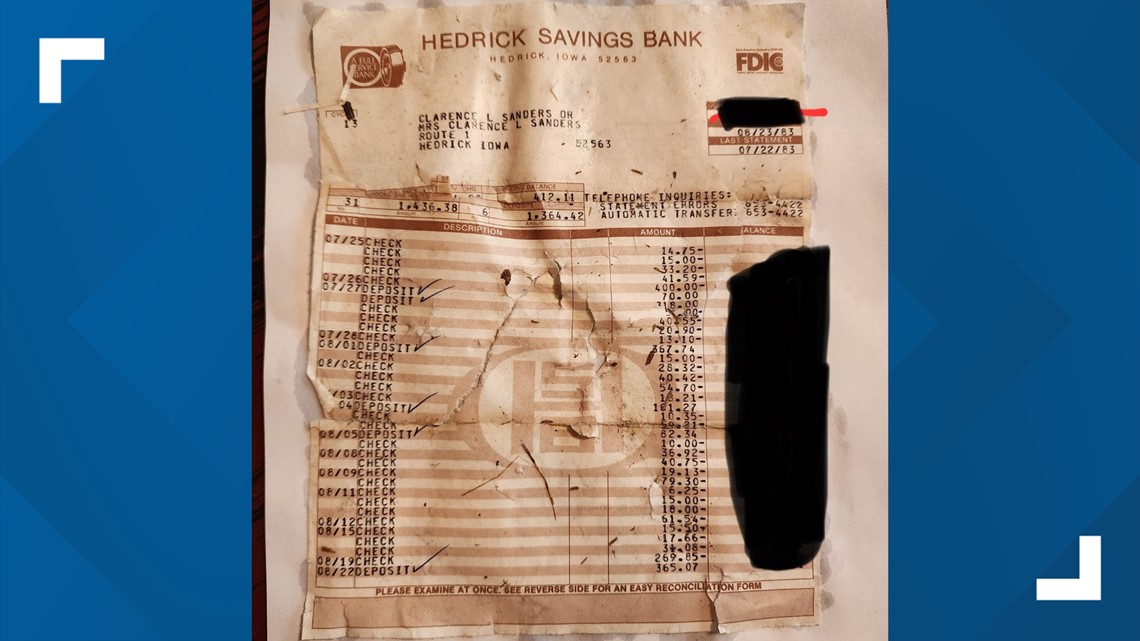 Important Weather Links: