DAVENPORT, Iowa — EDITOR'S NOTE: Some of the images and video depicted in testimony may be graphic in nature.
Friday, May 21 Fast Facts
First Witness: Continuing testimony from Day 2 was Pamela Romero, a former officer who said Christhian Bahena Rivera led her to the body of Mollie Tibbetts during their interview.
Second Witness: Amy Johnson, a criminalist with the Iowa Division of Criminal Investigation, testified about examining Bahena Rivera's black Chevy Malibu and the site where Tibbetts' body was found.
Third Witness: Tara Scott, a criminalist in the DNA section at the Iowa State Crime Lab, testified that blood found on the trunk liners of the Chevy Malibu matched the DNA profile of Mollie Tibbetts.
Over the lunch break, Judge Joel Yates bans a photographer from the courtroom for taking pictures of jurors, later assuring jurors the court has done everything possible to ensure the photos were scrubbed and won't be publicized.
Pamela Romero, a former Iowa City police officer, testified Thursday she interviewed Bahena Rivera in Spanish in August 2018, a month after Tibbetts disappeared while running.
Romero testified Bahena Rivera said Tibbetts was "hot", and when he followed her while she was running, she threatened to call police. That's when he allegedly fought her, and according to Romero, he said he blacks out when he gets angry.
Bahena Rivera told Romero he didn't remember putting Tibbetts in his car, but remembers taking her out.
Romero went with Bahena Rivera to a cornfield opening, where Tibbetts' body would be found. Inside the vehicle, she read him his Miranda rights.
When Romero pressed Bahena Rivera for more details on what happened, she testified he replied, "I brought you here, didn't I? So that means that I did it. I don't remember how I did it."
Para una versión en español, haga clic aquí.
Scroll down to see real-time updates from the courtroom
Romero's testimony ended around 4:25 p.m. Thursday after she was cross-examined by the defense.
On Friday, the jury was shown video from the interview, with Bahena Rivera appearing to put his head down and fall asleep. Romero maintained he was "very active" in conversation.
"He was tired, everybody was tired," she said. "But I was not able to see that he was really, really tired."
Amy Johnson, an Iowa Division of Criminal Investigation criminalist, testified about traveling to Yarrabee Farms on Aug. 20, 2018 to examine the black Chevy Malibu allegedly driven by Bahena Rivera.
The next day is when she traveled back to Poweshiek County to a cornfield where Tibbetts' body was located.
Friday afternoon, Iowa State Crime Lab criminalist Tara Scott told the jury about blood found on the trunk liners of the car.
"The screening tests indicated the presence of blood on those swabs, and the DNA profile that I developed matched the known DNA profile of Mollie Tibbetts," she said.
On cross-examination, Scott said there was a mixture of three people's DNA total in the trunk: Tibbetts and two others.
"I can neither include or exclude [Bahena Rivera]," she testified of the other two pieces of DNA.
Surveillance video of the black Chevy Malibu in the area Mollie was last seen

Mollie's blood in the car

Bahena Rivera's admissions that he found her attractive, followed her and remembered her body in the trunk
The trial will resume at 8:30 a.m. Monday.
Watch Day 3 of the trial on YouTube
Friday, May 21
Court is adjourned, court resumes at 8:30 a.m. Monday.
Judge Joel Yates says witness can step down.
He's going over how the jury members should handle themselves over the weekend, rejecting conversations about the trial or media coverage of the trial.
He tells the jurors they can otherwise continue to go about their normal activities, as he says he will, continuing his role as the "Oldest first base coach in the history of Iowa youth baseball."
In defense questioning, Scott explains that weak DNA samples made it impossible to either exclude or include any one person's particular DNA profile on certain items.
Two beverage cans were seized from the home Scott searched, both tested positive for a male contributor, but no profile was attempted to determine who that DNA belonged to.
Defense now begins questioning.
Regarding the trunk liners, Scott describes analysis of DNA provided a sample that was strong enough to conclude that it matched Mollie Tibbetts' DNA profile.
Scott testifies that analysis confirmed blood was found on a football from inside Bahena Rivera's trunk. It was too weak of a sample to compare to a DNA profile.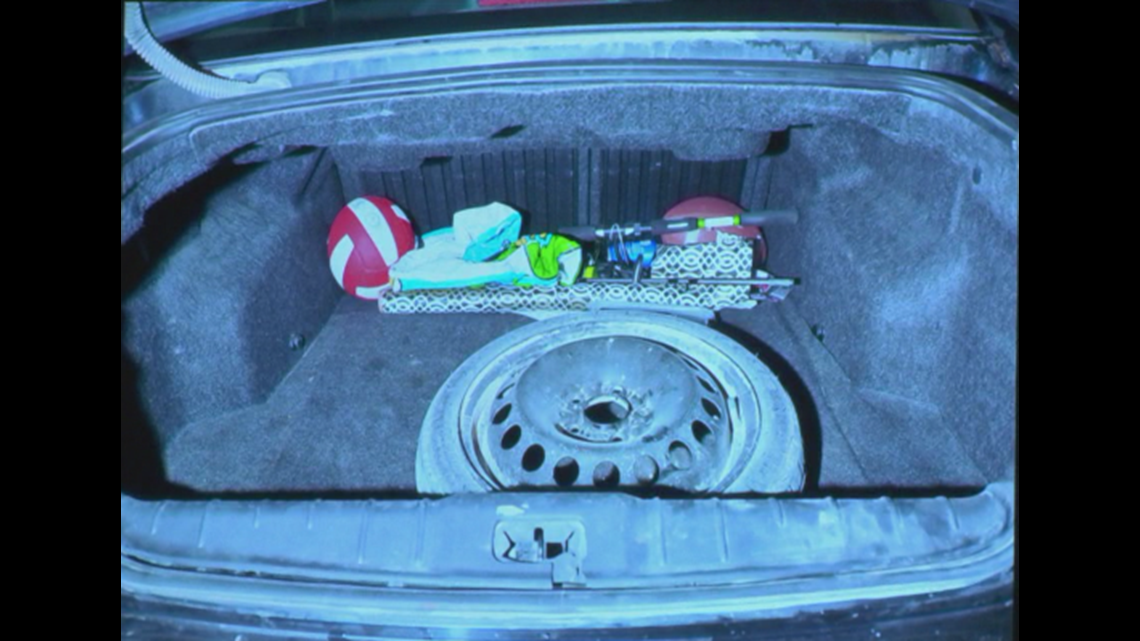 The court is on a 10-minute recess
Scott is asked about a folding knife and a napkin with red stains that had been seized from Christhian Bahena Rivera's trailer. Scott testified that the folding knife showed no presence of blood. The napkin did, however, and matched the DNA profile of Christhian Bahena Rivera.
A photo is shown of the water bottle used in creating a DNA profile of Mollie Tibbetts. This profile was later matched with the body that was left in cornfield.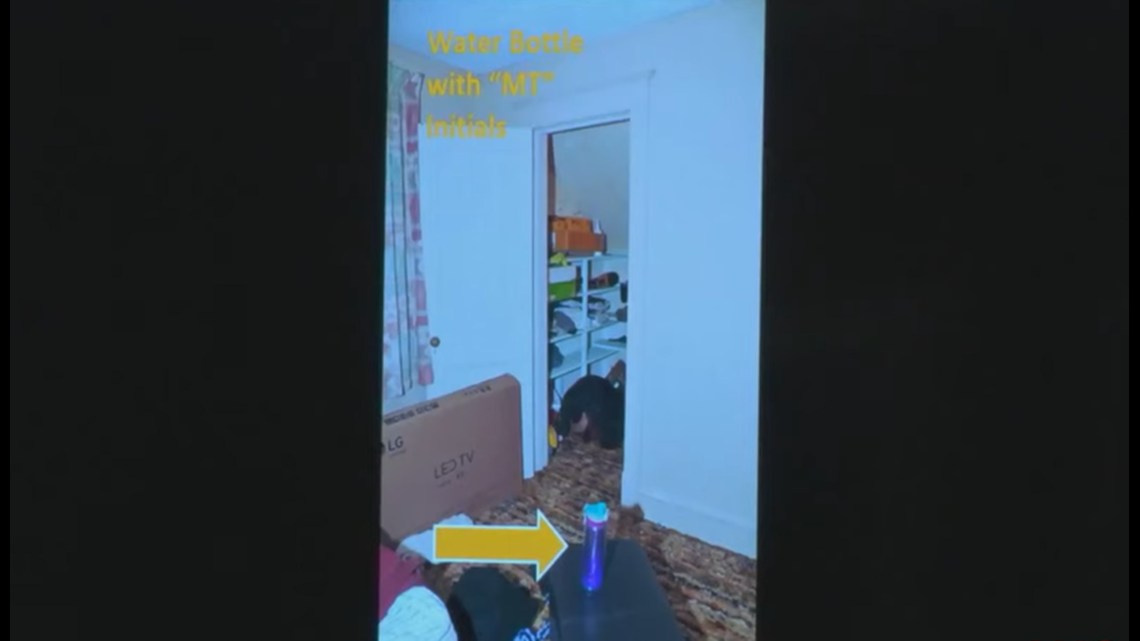 Scott clarifies that the DNA profile was cross-checked with Mollie's parents, which confirmed the water bottle was a likely match of her DNA profile.
Scott was called to the home where Mollie's boyfriend and his brother lived. She describes the home as "lived in." During the search Scott says the team looks for any signs of a struggle, but did not find any there.
She says they took a water bottle with the initials "MT" on it, which was used to develop a DNA profile of the victim, Mollie TIbbetts.
Amy Johnson is excused from the witness stand.
State calls final witness of the day, Tara Scott, a criminalist in the DNA section at the Iowa State Crime Lab in Ankeny, Iowa. She's been a criminalist since 2007.
State is questioning again. Johnson testifies that two knives were collected from Christhian Bahena Rivera's trailer and submitted for analysis.
She says she searched the trailer for three hours.
Johnson lists all of the items found in the Malibu that were submitted for fingerprinting.
In regards to the Malibu search, Johnson said there were long brown hairs found in the trunk. She's not aware of what happened to the hairs after discovery.
The defense notes multiple kids items were found in the car, including a Spongebob plastic bag, a pink toy, and a car seat. The defense also mentions a latex glove that was found in the trunk.
The defense begins questioning, asking about cross-contamination and how scenes are processed.
Johnson is asked about how long her team searched the black Chevy Malibu, she estimates it was four or five hours.
She confirmed they removed the trunk liners, which were taken and kept for analysis if needed.
- No further questions from the State.
Testimony resumes with the State submitting evidence and continuing questions to Amy Johnson.
Before testimony resumes, Judge Joel Yates informs the jury that a photographer was banned from the courtroom for taking photos of jurors. Judge Yates tells jurors the memory card has been scrubbed of and confiscated and is now in the possession of the court. He assures jurors he is confident their images will not end up on any publications.
Court is in lunch recess until 1:15 p.m.
Mollie's brightly colored running shoes were visible, while the rest of her body was covered by cornstalks. Johnson describes the corn as very dense.
Johnson is tasked with examining Rivera's black Malibu. Took about three hours. She's going over the contents of the trunk, including fishing equipment, plastic bags, etc.
Romero finishes her testimony.
Next state's witness is Amy Johnson, a criminalist with the Iowa Division of Criminal Investigation.
Court is back in session after the judge tells attorneys he is not going to issue an additional ruling based solely on cross-examination of Romero.
Jennifer Frese responds, saying such a move to impeach potential arguments about sleep deprivation as "premature." Calls the fact that people get tired after working a long day "common sense."
Judge Joel Yates recesses the court, says he will address the topic at hand shortly.
Outside the presence of the jury, prosecutor Scott Brown references a November 2019 suppression hearing regarding the police interview.
Brown says some of the statements occurring at 4:30 a.m. when they left the sheriff's office were ruled by Judge Joel Yates to be inadmissible at trial.
"There is no other reason the defense offered that testimony than to argue later that the sleep deprivation ... that he falsely confessed," Brown says. "They have pushed back in statements that the court has excluded."
Court is in recess for another 10-15 minutes
Romero says she rarely conducts interviews that last more than an hour. Only four times has an interview ever lasted longer than three hours in her experience.
This interview lasted 11 hours.
Jennifer Frese asking Romero if she has any professional knowledge of the concept of "false confessions". Romero says she doesn't.
At about 11:30 p.m. during that interview, Bahena Rivera is placed in custody on an immigration hold. His phone is taken away from him, and he was no longer free to leave at any time.
Court is back in session.
Court begins a 10-minute recess.
Romero testifying that she believed this was an "interview" with Bahena Rivera. Defense arguing this is a high-pressure interrogation.
Jennifer Frese: "You questioned my client saying 'Where's the body?' Why would you tell my client he is not telling the truth?"
Defense attorney Jennifer Frese: "Will you acknowledge my client indicated he was very tired?" Romero insists Bahena Rivera was engaged and active with her in conversation.
She says everyone was tired, but it was not impacting their interaction.
More video from inside the police interview room is shown.
Attorneys approach the bench for a conversation with Judge Joel Yates.
The time-lapsed video covers about 30 minutes of Bahena Rivera. He sets his head on the table in front of him, covers his face with a hat and sits in a chair, while Romero is out of the room.
Defense attorney Jennifer Frese references a transcript of the interview after Romero returned to the room, with Romero saying "You fell asleep."
Defense shows sped-up video of Cristhian Bahena Rivera in his police interview August 2018. The defense says this was after a long day of work for the defendant and the police interview itself was 11 hours.
Court is back in session, with former Iowa City police officer Pamela Romero back on the stand for cross-examination.