Glenn Youngkin won the Virginia governor's race on Tuesday, tapping into culture war fights over schools and race to unite former President Donald Trump's most fervent supporters with enough suburban voters to become the first Republican to win statewide office here in 12 years.
The 54-year-old Youngkin's defeat of Democrat Terry McAuliffe marked a sharp turnabout in a state that has shifted to the left over the past decade and was captured by President Joe Biden last year by a 10-point margin. It is certain to add to the Democrats' anxiety about their grip on political power heading into next year's midterms, when the party's thin majority in Congress could be erased.
The election was the first major test of voter sentiment since Biden took office, and the results were a stern warning sign for the president's own support. His administration has been shaken repeatedly in recent months, beginning with the chaotic withdrawal from Afghanistan, challenges in emerging from the pandemic and a legislative agenda at risk of stalling on Capitol Hill.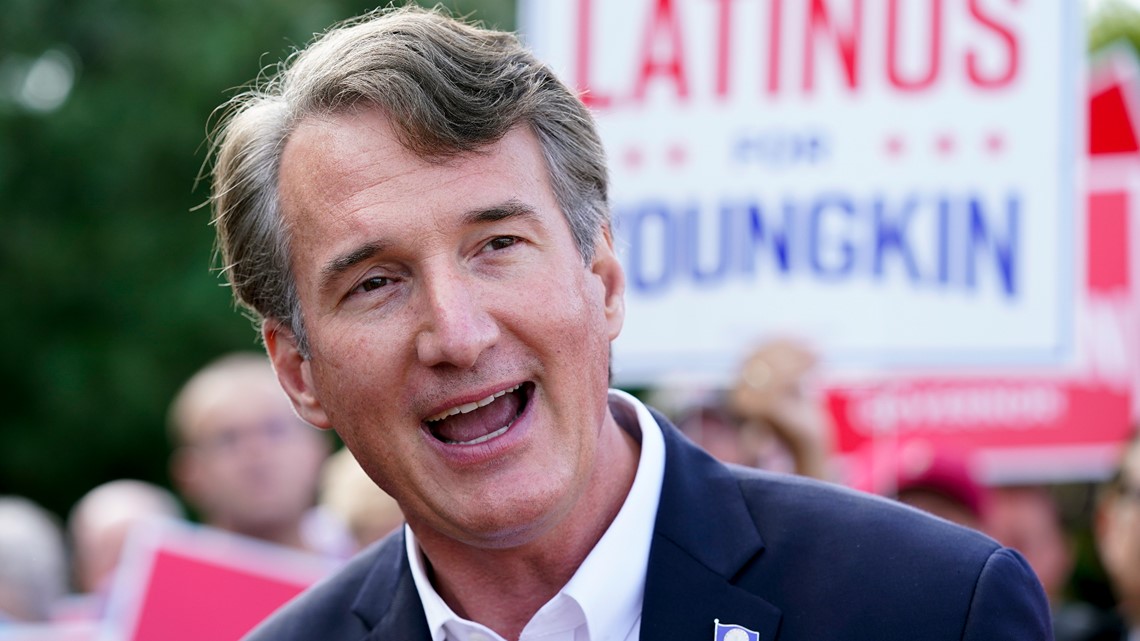 Youngkin, a political neophyte and former private equity executive, was able to take advantage of apparent apathy among core Democratic voters fatigued by years of elections that were seen as must-wins. He successfully portrayed McAuliffe, a former Virginia governor, Democratic National Committee chairman and close friend of Bill and Hillary Clinton, as part of an elite class of politicians. He also seized on a late-stage stumble by McAuliffe, who during a debate performance suggested parents should have a minimal role in shaping school curriculums.
Perhaps most significantly, Youngkin prevailed in a task that has stumped scores of Republicans before him: attracting Trump's base while also appealing to suburban voters who were repelled by the former president's divisive behavior.
Close race for New Jersey governor
New Jersey Democratic Gov. Phil Murphy appeared to be in a close fight Tuesday with Republican challenger Jack Ciattarelli as he waged a reelection campaign centered on the progressive policies he's enacted in his first term.
The Associated Press has not declared a winner in the race, and it was too early to call it. But returns showed Ciattarelli with a slight lead over the first-term incumbent on a night that imparted some bad omens for Democrats.
Counties that historically trend Democratic were yet to report full results.
Murphy has been leading in the polls, has a 1 million-voter registration advantage and had more cash in his campaign coffers than Ciattarelli in the final days of the race. But the Republican has far surpassed his predecessor four years ago in fundraising and has seen the gap in public polls move in his favor — if only by a few points.
Boston, Seattle, Cincinnati elect Asian American mayors for first time
Two major U.S. cities have each elected their first Asian American mayor and a third could join them.
Boston's next mayor will be Michelle Wu. The city's first Asian American city councilor beat Annissa Essaibi George, who is Arab Polish American. Wu is also the first woman to be elected to the role.
In Cincinnati's mayoral race, Aftab Pureval, who is of Tibetan and Indian descent, defeated David Mann, who is white.
Meanwhile, in Seattle, Bruce Harrell, who is second-generation Japanese American and Black, was projected by KING 5 News as the winner, defeating current City Council President M. Lorena González. It could be days before all the votes are counted and the Associated Press had yet to call the race. González signaled she wanted to wait for more votes to be counted, but faces a tough climb as Harrell had a 30-point lead Tuesday night.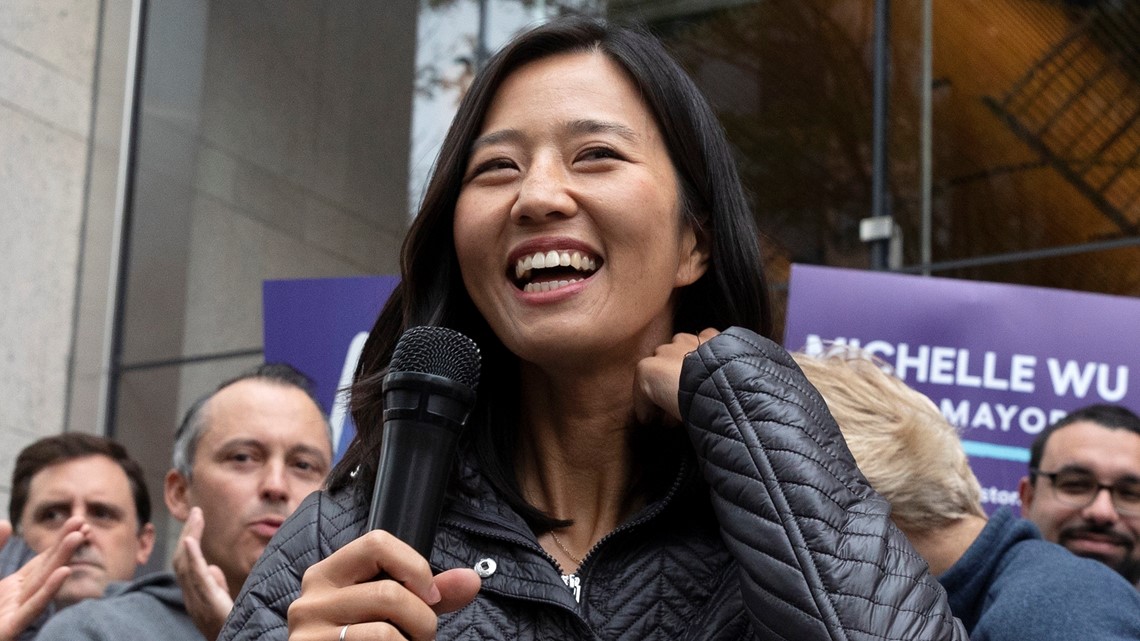 Democrats, Republicans each add one seat in US House
Republican Mike Carey, a Trump-backed coal lobbyist, bested a two-term state lawmaker to win an open U.S. House seat in central Ohio on Tuesday, while Democrat Shontel Brown coasted to victory in a second up-for-grabs congressional district in the Cleveland area.
The election results will leave Democrats with a 221-213 advantage over Republicans in Congress, with Brown and Carey each retaining a seat for their respective party. A third open congressional seat in Florida, where primaries were being held Tuesday, also is very likely to remain status quo and in Democratic hands.
Minneapolis voters reject replacing police with new agency
Minneapolis voters on Tuesday rejected a proposal to replace the city's police department with a new Department of Public Safety, an idea that supporters hoped would bring radical change to policing in the city where George Floyd's death under an officer's knee brought calls for racial justice.
The initiative would have changed the city charter to remove a requirement that the city have a police department with a minimum number of officers. Supporters said a complete overhaul of policing was necessary to stop police violence. Opponents said the proposal had no concrete plan for how to move forward and warned it would leave some communities already affected by violence more vulnerable as crime is on the rise.
The ballot proposal had roots in the abolish-the-police movement that erupted after Floyd was killed by a Minneapolis police officer last year. The debate over racial justice in policing brought national attention to Tuesday's vote, as well as a river of out-of-state money seeking to influence the outcome that could have shaped change elsewhere, too.
The ballot question called for a new Department of Public Safety to take "a comprehensive public health approach to the delivery of functions" that would be determined by the mayor and City Council. Supporters argued it was a chance to reimagine what public safety can be and how money gets spent. Among other things, supporters said, funding would go toward programs that don't send armed officers to call on people in crisis.
New Manhattan DA elected, will inherit investigation into Trump business
Alvin Bragg has been elected Manhattan's first Black district attorney.
The 48-year-old Democrat easily defeated Republican Thomas Kenniff on Tuesday to join a wave of progressive, reform-minded prosecutors in several big U.S cities.
When Bragg takes office in January, he'll inherit an ongoing investigation of former President Donald Trump. Manhattan prosecutors this year charged Trump's company and its longtime finance chief with tax fraud.
Bragg campaigned partly on a promise to change the culture of the district attorney's office. He said he wants to "shrink the system" and look for alternatives to prosecuting small "crimes of poverty."
Eric Adams elected New York City mayor
Democrat Eric Adams has been elected New York City mayor after handily defeating Republican Curtis Sliwa.
Adams is the Brooklyn borough president and a former New York City police captain. He will become the city's second Black mayor and must steer the damaged metropolis through its recovery from the coronavirus pandemic.
Adams' victory Tuesday seemed all but assured after he emerged as the winner from a crowded Democratic primary this summer in a city where Democrats outnumber Republicans 7 to 1.
Sliwa is the founder of the Guardian Angels anti-crime patrol. He ran a campaign punctuated by stunts and his signature red beret.
Democrat Brown wins Cleveland-area House seat
Brown is a Cuyahoga County Council member who also chairs the county Democratic Party. She defeated Republican Laverne Gore, a business owner and activist, in the 11th Congressional District. The district is a heavily Democratic area that stretches from Cleveland to Akron.
Brown will fill the remainder of Fudge's term, which runs until January 2023, facing reelection again next year to hold the seat.
Her election marks a win for establishment Democrats, who sought to defend the district against a takeover by progressives. Her backers included Hillary Clinton, U.S. Rep. Jim Clyburn and several labor unions.
But victory may be short-lived. Already, Brown's defeated primary opponent, progressive Nina Turner, has begun campaigning for the full congressional term up for grabs in 2022.
Voting mostly runs smoothly across the country
After a year of dealing with false claims and death threats, election officials appeared on track Tuesday to deliver a relatively smooth Election Day.
There were few reports of voting or equipment problems, other than the sporadic power outage or polling place opening late that is not unusual for Election Day. It was too soon to gauge the effects of new voting restrictions in place in a few states.
In a repeat of last year, the debate over masks made its way to polling places when a few voters in Virginia complained they were told to cover their faces before going in.
In Georgia, Fulton County elections director Rick Barron said turnout had been "light but steady." Two county polling locations did not have all the equipment they needed when polls opened, but poll managers followed proper procedures and allowed voters to use emergency paper ballots until the equipment issues were resolved, Barron said.
Election officials said demonstrating secure, consistent and fair practices would help reassure those who still have doubts about last year's presidential election as preparations begin for next year's midterms.
Virginia voters favor Republican Youngkin more favorably than Trump

Republican Glenn Youngkin did his best to keep former President Donald Trump at arm's length in his competitive race for Virginia governor against Democrat Terry McAuliffe. The strategy appears to have had the intended effect.
A majority of Virginia voters say they have an unfavorable view of the former president, but Youngkin fares better, according to AP VoteCast, a survey of voters. About half have a favorable opinion of the former private equity executive.
Biden won Virginia by 10 percentage points last year. Now, 48% of Virginia's voters approve of Biden's job performance, while 52% disapprove.
Voters who ranked the economy and education as the top issues were more likely to back Youngkin over McAuliffe. Voters who identified COVID-19 as the top issue supported McAuliffe over Youngkin. McAuliffe also earned the majority backing of the roughly 2 in 10 who ranked health care, climate change or racism as the top issue.
Polls close in Virginia
Voters casting ballots in the tight race for Virginia governor rank the economy as the top issue facing the commonwealth, with the coronavirus pandemic and education trailing.
In the contest between Democrat Terry McAuliffe and Republican Glenn Youngkin, 34% of Virginia voters say the economy and jobs was the most important issue facing the state. Seventeen percent name COVID-19 and 14% choose education. That's according to AP VoteCast, a survey of voters.
Health care (7%), climate change (7%), racism (5%), immigration (5%), abortion (5%) and law enforcement (4%) were all lower-tier issues.
The race is the most closely watched and competitive contest since Joe Biden defeated Donald Trump last year, and is seen as a gauge of voters' feelings ahead of next year's midterms.
Youngkin, a former private equity executive, often asserted Virginia's economy was "in the ditch," but a majority of voters disagreed. Fifty-six percent said the state's economy is in good shape, compared with 44% saying economic conditions are poor.
Schools became a focus of the race in its final weeks. A quarter of Virginia voters say the debate over teaching critical race theory in schools was the single most important factor in their vote for governor, but a similar percentage identified the debate over handling COVID-19 in schools as most important.