DES MOINES, Iowa — With greening grass and upcoming spring leaf development, the height of allergy season is right around the corner for Iowa.
Pollen levels rise every spring. It's an annual cycle that affects millions of Americans, especially those who have respiratory illnesses, such as asthma.
New data from Climate Central suggests climate change - specifically, a longer growing season - is directly contributing to a longer allergy season in Iowa.
Springlike temperatures now begin earlier in the year, and summerlike temperatures linger later in the year. This means the time between the last spring freeze and the first fall freeze is getting longer.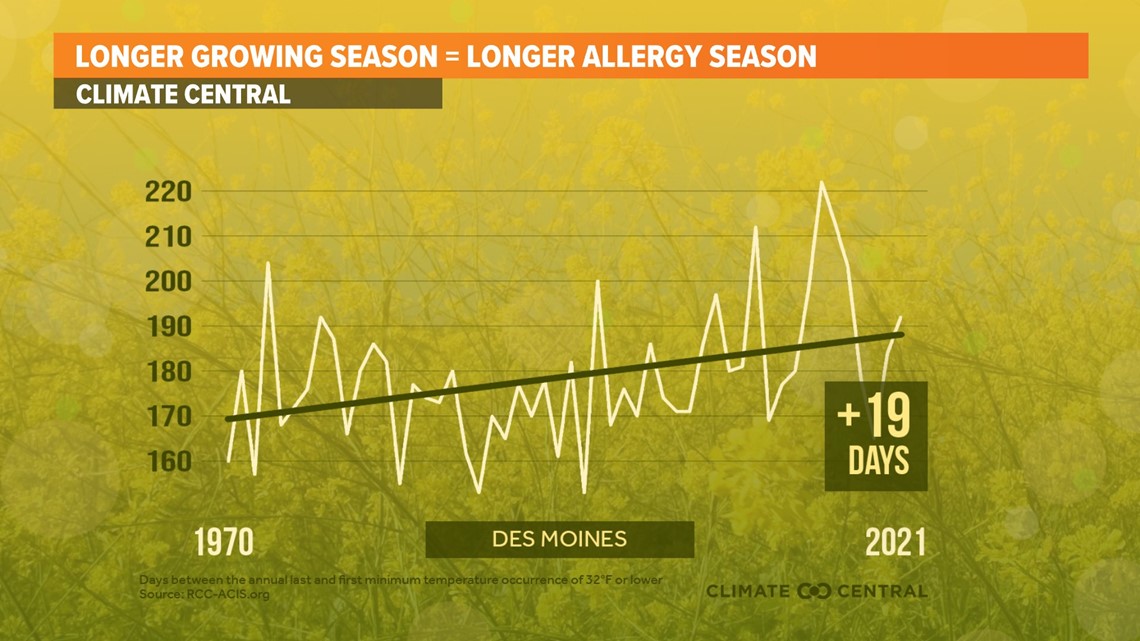 Although this may have some positive outcomes for farmers and the state's agriculture industry, it can have an adverse effect on Iowa as well. For example, one consequence is an increase in pests and pollen.
According to Climate Central, the growing season isn't the only contributing factor to longer allergy seasons, though.
Higher carbon dioxide levels in the atmosphere are also to blame. Higher levels can boost plant growth and lead to more pollen production in grasses and ragweed.
Climate Central research shows high rates of carbon dioxide emissions could lead to as much as a 200% increase in pollen production by the end of the century in the U.S, therefore making allergy season more intense.
While many people experience seasonal allergies as just a nuisance, those dealing with asthma will suffer even more moving forward, especially as asthma and allergy reactions become more expensive to treat. According to Climate Central, effective medications and therapy to manage symptoms can be a burden on lower-income families, and asthma is more prevalent in families living below the poverty line.