FORT DODGE, Iowa — In Fort Dodge, you don't have to go far to find someone who has a strong opinion about the deer population.
The city's heavily wooded area spanning residential areas along the nature trail is the reason the woodland creatures often wander into residents' yards. While some people don't mind the four-legged visitors, others take issue with the fact that deer are gobbling up their flowers.
"It is, for us, a pretty polarizing topic," said Ryan Maehl, assistant to the city manager.
After receiving several complaints, the city now hopes to navigate the issue with the help of some technology.
In March, Fort Dodge opened a text line to better communicate with residents over several issues. As of last week, one option on that text line allows residents to spot deer sightings.
Residents are encouraged to text the word "wildlife" to (515)408-9888.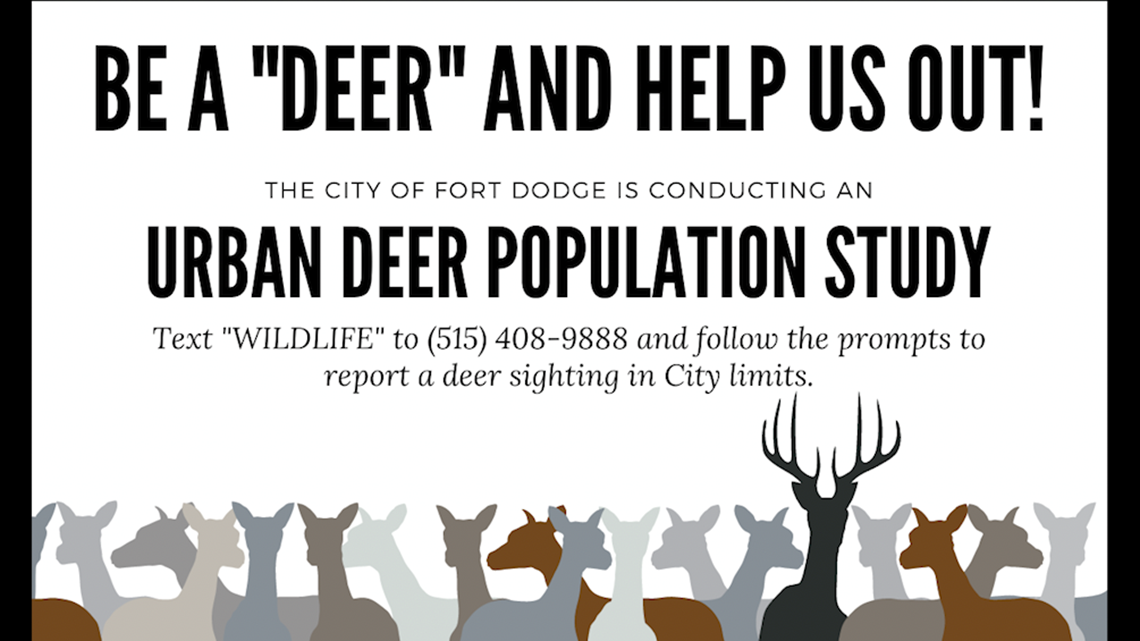 After texting the word "wildlife", and then "deer", the TextMyGov system will prompt people with a few more questions, asking the date, time, and location of the sighting, as well as the number of deer.
If residents have photos, they can upload those as well, though Maehl says only about 10% of the city's more-than-100 submissions have included them.
After exploring the options of helicopter and drone footage to track deer, the city decided on using the text message system for cost-effectiveness, though they know it won't be perfect.
"Deer constantly move— they're going to food sources, water sources, and habitat," said Maehl. "So we're really trying to just get a snapshot."
After that, they'll look at potential options for managing the population. That could include an urban deer hunt, utilizing highly skilled bow hunters; sterilization; or educating the community not to feed the deer.
However, if their number of deer per square mile isn't high, after consulting with the DNR, they may choose no option at all.
"We want to get this information first. Why cross a bridge you don't need to until you know that information?" he said.