The future is electric: Iowa's efforts in transportation
Local 5 is diving into the electric vehicle revolution, and where Iowa stands in the drive for EVs.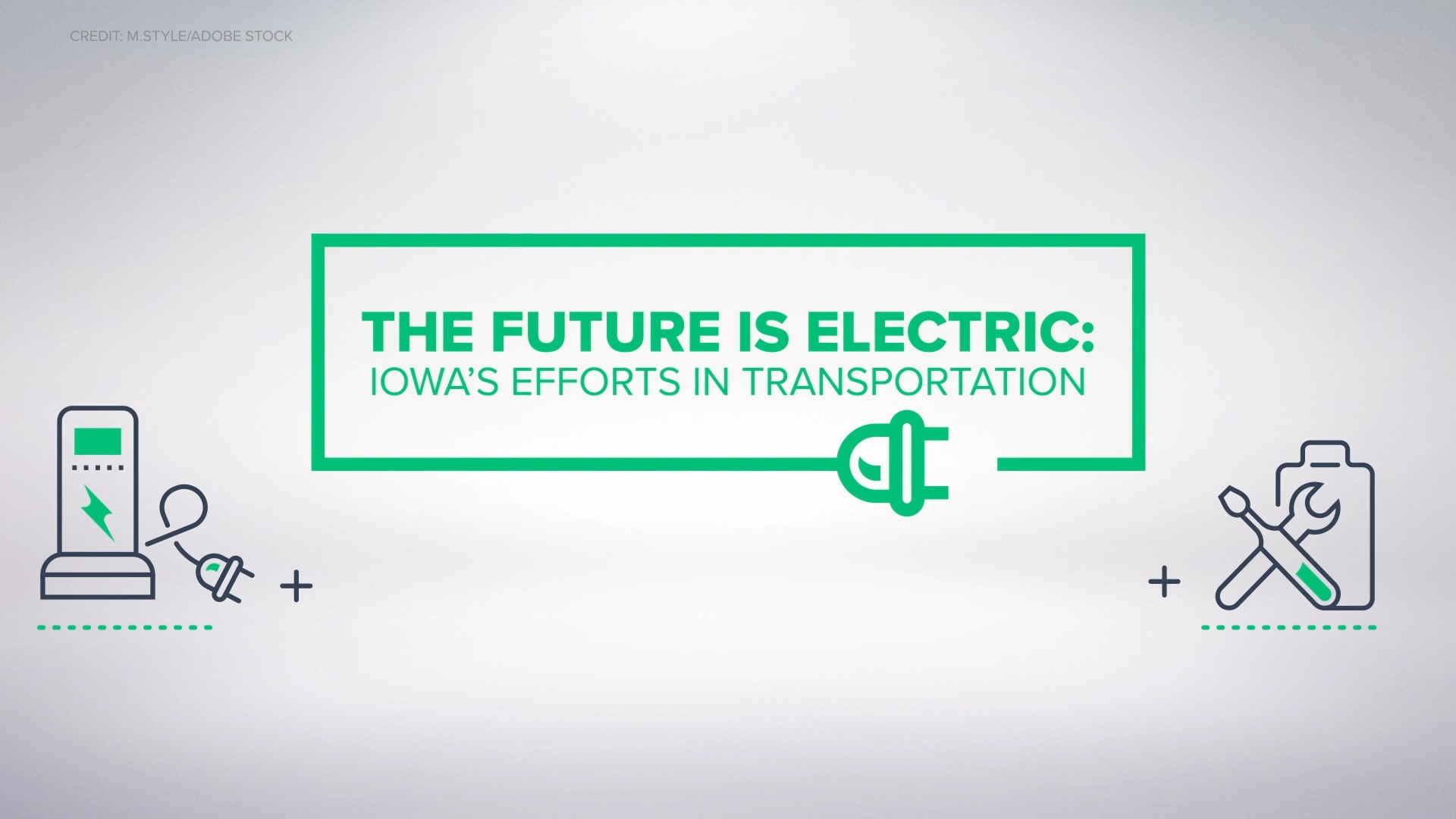 Electric vehicle sales are growing across the United States, and registration data shows in Iowa, the number of drivers on the road with an EV or hybrid car is going up.
Big-name brands like General Motors, Volkswagen and Ford all recently announced significant changes in their production lines to manufacture electric vehicles.
Local 5 is diving into the EV revolution, and where Iowa stands in the drive for electric vehicles.
Meet the Loyalist
:
Des Moines resident Eric Thiel is already on board with the EV trend. After driving a variety of gas-powered cars most of his life, he decided to make a significant change.
"I got tired of spending money on gas. And I got to the point where it's like, I wanted an electric car," Thiel said.
He started by taking what you might call a virtual test drive of the car he had his eye on: a Tesla Model 3.
"I spent a lot of time watching videos of other people driving this car. And the more and more I watched, the more fun it looked to me.," he said.
You might imagine the tough part came next, heading to a dealership and going through what is often a day-long car buying process.
"It was actually a really easy process. I already knew what I wanted," Thiel said. "And it was just all right there on the website. I could pick the color and pick the features I wanted."
Two months later, his new car was delivered straight to his driveway.
"It's a good feeling. I was excited to see it," Thiel recalled.
He was, of course, excited to drive it. So far, Thiel said driving his high-tech EV is almost everything he expected.
"I guess you're kind of not used to how quickly it does accelerate," he said. "So that kind of takes you by surprise."
Charging his car is mostly done at home through a charger he ordered along with the car. It charges overnight when electricity is cheaper. Thiel said it's ready with a full charge every morning for his drive to work.
Long trips aren't much of a challenge either with a bit of planning, which the car does on its own.
"I can put in a destination into the map. It'll tell me where to go, but also show charging stations along the way."
According to Thiel, every mile saves him money compared to other vehicles he's owned.
"I think last month I drove maybe 1,500 miles, and I only spent about $40 worth of electricity," he claimed.
Maintenance needs are a long way down the road.
"There is no engine. There is a motor. You hardly need to get to that. Pretty much at all," Thiel said. "There's no oil changes."
Thiel also said he believes this was an environmentally friendly move.
"I felt like with the state of Iowa more than half of electricity is coming from the wind power. So I felt like it was a good opportunity to really utilize that," he said.
Thiel likes his new car so much, he thinks another one is just around the corner.
"I'm already thinking about a Tesla for my wife," he said.
EVs By the Numbers
:
Data Local 5 obtained from the Iowa Department of Transportation, the Iowa Economic Development Authority and other state agencies shows where Iowans are driving their EVs.
The map below reflects the number of registered hybrid and completely electric vehicles registered by county. There aren't really any "dead zones" in Iowa, meaning areas where no one is driving electric vehicles.
The top five counties have more urban populations: Polk, Dallas, Linn, Johnson, and Scott.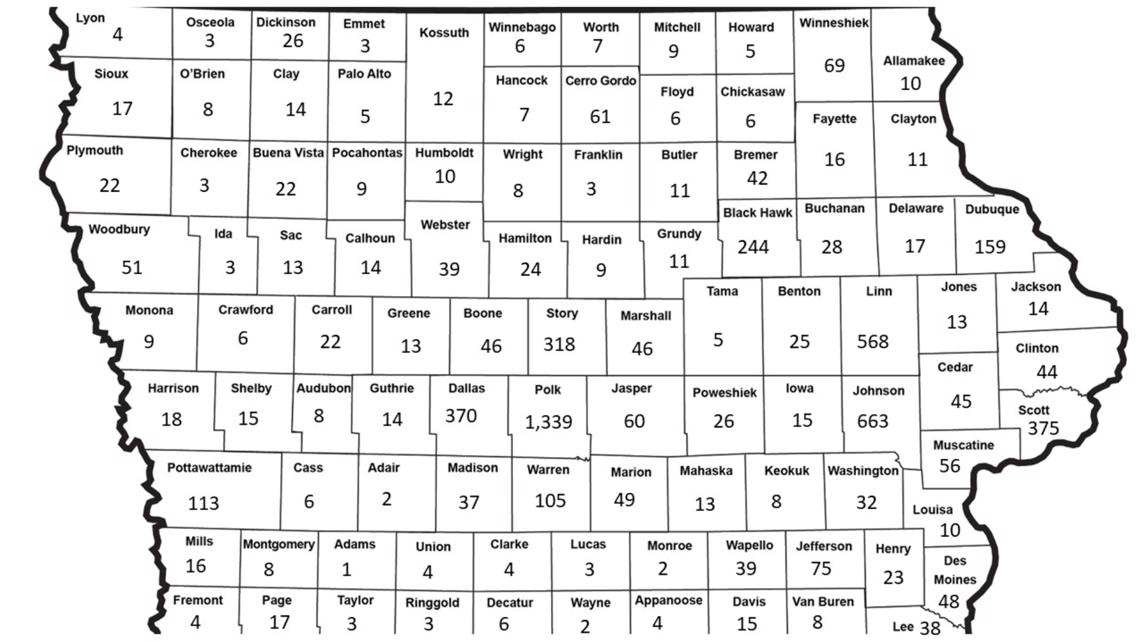 According to the latest state data, 5,880 EVs and hybrids are registered in Iowa.
The top companies include:
Tesla: 1,624
Chevy: 1,569
Nissan: 357
In Iowa, anyone with an electric vehicle must pay a special registration fee in addition to the annual registration fee. The yearly rate has gone up each year through 2022.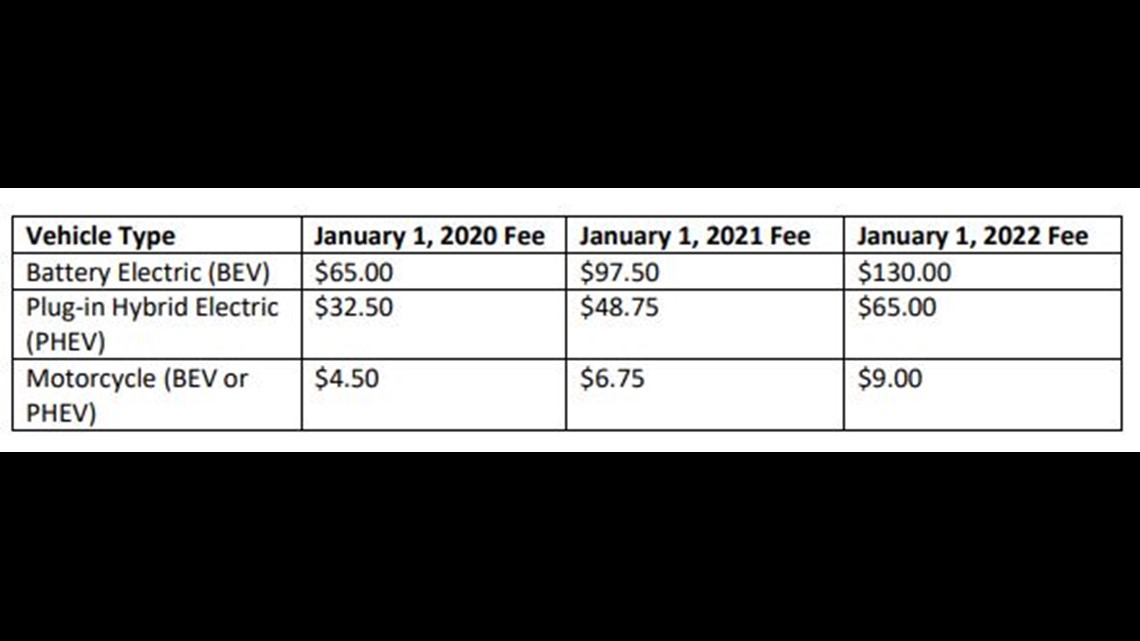 In the spreadsheet above, the numbers for mileage range come from fueleconomy.gov, part of the Environmental Protection Agency. That's the official U.S. government source for fuel economy.
The spreadsheet shows a high of 387 miles on one charge (Tesla Model S) to a low of 59 miles (Kandi K27). That's the range for the majority of electric vehicles available this year to drivers.
Note: Tesla has a Model S with a trim level advertising a range of 412 miles, but that isn't listed on the EPA's website.
What's next?
:
Bigger, more advanced batteries require more materials. Specifically, things like copper, iron, nickel, aluminum, cobalt, graphite, lithium and manganese.
All of these have to be mined from the ground and then refined, which by most accounts is not a "green" process. This means that because EVs require those batteries, making an EV is a dirtier process than making a gas-powered vehicle.
According to a congressional report that brought together research comparing EVs and gas-powered videos, even though EVs don't start off very green, they eventually do better than gas-powered vehicles.
Specifically, over the life of a battery, they will release fewer volatile organic compounds, carbon monoxide, nitrogen oxides and black carbon. They will, however, release more fine particulate matter and sulfur oxides.
According to the same report, on average, a battery will consume an estimated 29% less energy resources and 37% less fossil fuel resources. The production of the battery, however, will consume 56% more water resources.
Then there's the fact that batteries have a limited life span.
Alexis Georgeson, vice president of communications and government relations at Redwood Materials, a Nevada-based company working to recycle lithium batteries, said the future is promising.
"One of the things that's just really especially wonderful about lithium-ion batteries is that the materials inside of them can be recycled almost infinitely," Georgeson said. "So I can take a lithium-ion battery pack, whether it's from an electric vehicle, or even if it's you know, from something like an iPhone, and I can infinitely recycle that down to its most basic elements."
Georgeson said Redwood Materials is able to recycle more than 90% of the materials in lithium batteries.
The company expects batteries from the first EVs will start needing to be recycled en masse in five to 10 years.
Another concern surrounding electric vehicles is the fear they could put mechanics out of a job.
Electric vehicles not only pose a threat to the gas and oil industry, but also to the ethanol industry.
Gas-powered cars have hundreds of intricate parts, but EVs have about 10. Things like oil changes and transmissions dying out don't happen in EVs, which means fewer things for mechanics to fix.
The lead instructor at DMACC's mechanics program says he's not concerned about EVs putting his students out of a job.
"The hybrid and electric vehicles will require additional services related toward battery maintenance; working safely around the hybrid system. Right now since the vehicles are still limited in number compared to the internal combustion engine vehicles, our students are learning the safety aspects around how to properly disable and how to re-engage the hybrid safety systems," said Jerry Burns, Chair of the DMACC Automotive Program.
Burns said his students haven't gotten into the high-level diagnostics of an EV.
Right now, Iowa produces more than four million gallons of ethanol each year. The industry supports Iowa farmers' bottom line, and supplies hundreds of jobs.
Monte Shaw with the Iowa Renewable Fuels Association said he isn't anti-EV, he just wants ethanol producers and supporters to have a seat at the table when it comes to alternative fuel transportation discussions.
"The fact of the matter is that the world's transportation system is complex," Shaw said. "And in most things in life, there is not a silver bullet. We need to have competition and you need to have different technologies with that. And so we don't support the calls for the EV-only movements."
Iowa industry supporters advocate ethanol is a clean option for fuel, but some argue it doesn't have as large of an overall environmental impact as electric vehicles.
Watch the full special on YouTube