IOWA, USA — The term derecho may be new for some Iowans, but last week wasn't the first time this type of storm has affected the state.
A derecho is defined as a storm complex that consistently produces severe winds (58 mph or greater) and occasionally produces 75+ mph gusts over at least 250 miles.
Last week's storm reached those parameters, as winds gusted as high 110-130 mph in parts of eastern Iowa.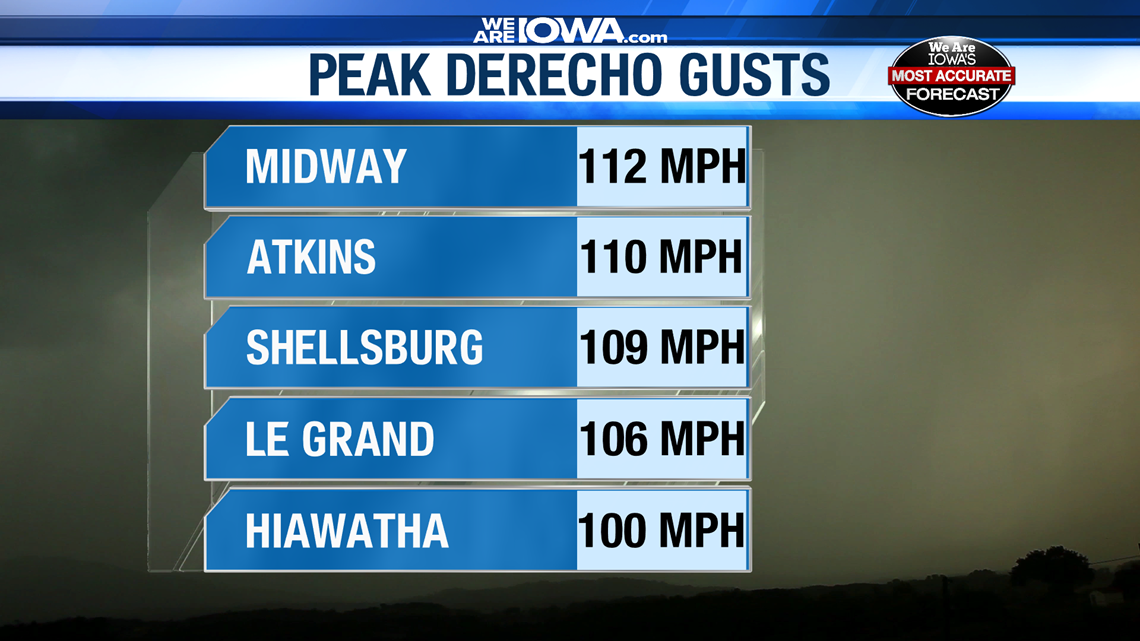 Central Iowa averages one derecho every two years.
The last time a derecho came close to matching last week's strength was on July 11, 2011 when storms produced straight-line winds as high as 105 mph in Tama County.
The last derecho to match the power of last week's storm occurred on June 29, 1998.
What started as a typical complex of thunderstorms in northern Nebraska intensified into a system that produced several tornadoes, hail as large as tennis balls and extreme straight-line wind across Iowa.
The storm—known as the Corn Belt Derecho—consistently delivered 70-90 mph winds along its entire track from northeast Nebraska to northern Kentucky.
Post-storm damage surveys indicate winds gusted as high as 120 mph from Granger through Johnston into northeast Des Moines.
Meteorologists say it was inconclusive whether or not this was caused by a tornado. Either way, damage was consistent with F2 tornado winds.
In the Des Moines metro, roofs were lifted off homes and stores, planes were flipped, and heavy construction was overturned on I-35/80.
$100 million of damage occurred in Polk County alone.
In southeast Iowa, a 123 mph gust was measured by a weather observer in Washington. This is the highest unofficial gust ever recorded in Iowa.
A 104 mph gust was also measured in Muscatine.
Statewide, 80 homes were destroyed while an additional 559 were severely damaged. As many as 500,000 customers lost power after the storm.
125 people were injured, but no one was killed.