The new coronavirus (COVID-19) outbreak has created a third spike in influenza-like illness (ILI) activity across the United States, as researchers working with AccuWeather predicted, according to the Centers for Disease Control and Prevention (CDC).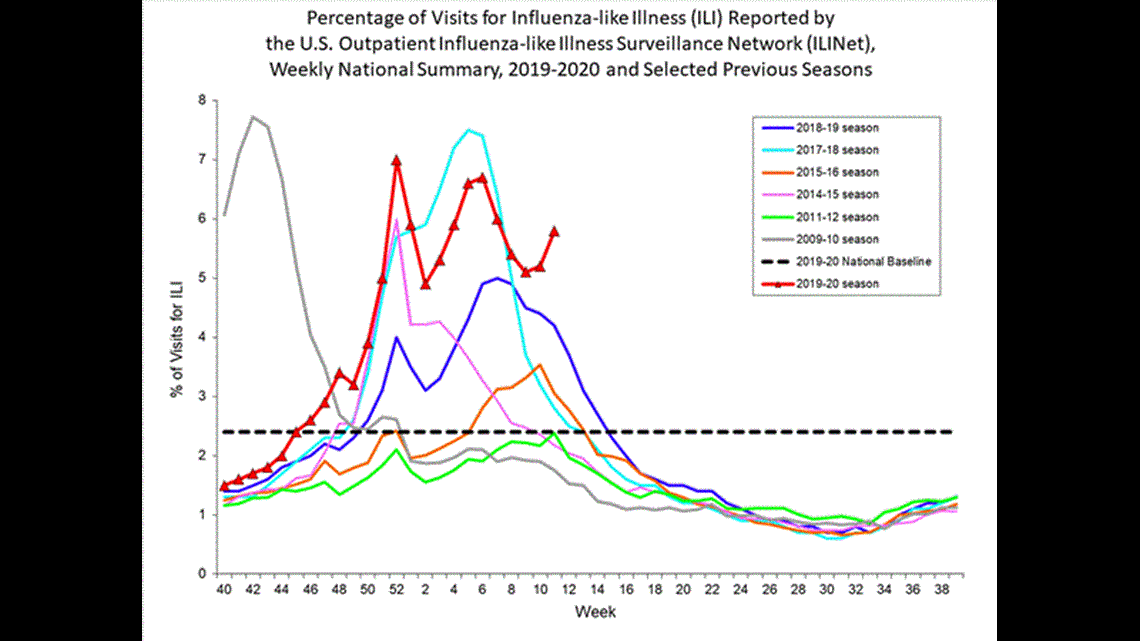 The CDC estimates there have been at least 38 million flu illnesses, 390,000 hospitalizations and 23,000 deaths from the flu during the 2019-20 season. Laboratory-confirmed flu-related hospitalization rates overall for the U.S. remain moderate compared to recent seasons, but rates for children 0-4 and adults 18-49 are now the highest the CDC has on record for these age groups, surpassing rates reported during the 2009-10 pandemic.
The quarantining and social-distancing efforts enacted throughout the U.S. should help reduce both ILI activity and COVID-19 transmission.
"We know with the flu that people can release viruses into the air just by breathing and talking, so it doesn't necessarily have to be coughing and sneezing," Linsey Marr, an air pollution and environmental engineering professor at Virginia Tech, told AccuWeather's Monica Danielle.
"But the reason for social distancing is because even for the [germs] floating around, they're much more concentrated when you're close to the person," Marr added. "So, if you imagine someone who is smoking and you're closer to them, you're right in that puff of smoke, but if you're farther away, the air is much more diluted."
"I think if anybody thinks we'll be doing this for two weeks and then we're done ... I don't think that's going to work out. We'll go right back where we started," Madhav Marathe, a director and distinguished professor of biocomplexity, told AccuWeather's Bill Waddell. "I strongly believe that all the state governments in the U.S. should actively start building temporary medical facilities. I think it's centrally important."