DES MOINES, Iowa — June started off wet across central Iowa as a large area of much-needed heavy rain passed through the region early Thursday.
A relatively small cluster of thunderstorms moved into southern Iowa from Missouri shortly after 1 a.m., but plentiful moisture here helped the storms grow in coverage and intensity.
The bullseye of heavy rain occurred south of the metro in parts of Madison, Warren, and Marion Counties, especially for communities close to Iowa Highway 92.
Here are a few official rainfall reports (as of 8 a.m. Thursday) from observers in central Iowa:
Ackworth — 4.3"
Saint Marys — 3.06"
Winterset — 2.79"
Pleasantville — 2.75:
North Ankeny — 2.5"
Knoxville- 2.0"
Norwalk- 1.5"
Northwest Ankeny — 1.26"
Carlisle- 1.0"
Waukee — 0.54"
Des Moines Int'l Airport — 0.48"
As more atmospheric energy moves through Iowa Thursday, another wave of scattered showers and storms is forecast to develop in the afternoon and early evening.
Rain chances will even stick around into Friday, but the risk for wet weather goes down this weekend.
May 2023 ended with 3.36" of rain in Des Moines, nearly two inches below the average monthly rainfall of 5.24". For all of 2023 so far, the city has received about 10.9" of rain, which is nearly 3" below average.
As of Thursday morning's U.S. Drought Monitor report, almost all of central Iowa is considered 'abnormally dry', while southeastern Iowa has reached "moderate" drought stage.
Keep in mind, this does not account for Thursday morning's rainfall.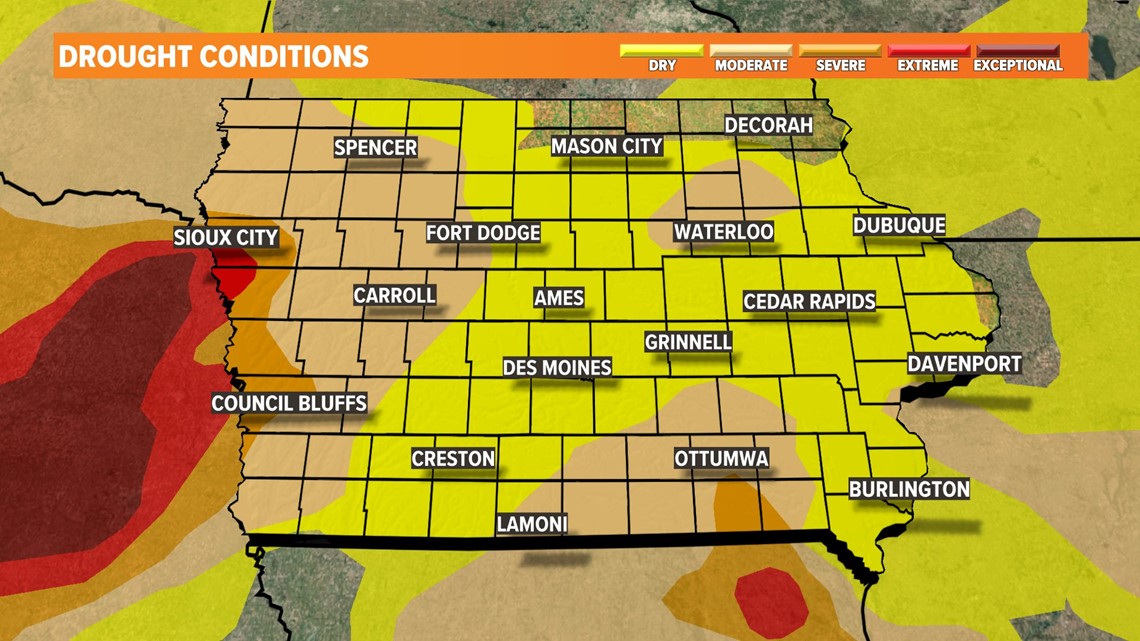 Important Weather Links: