DES MOINES, Iowa — It was feast or famine across the state of Iowa this weekend when it comes to rainfall.
Several locations reported totals in the 3-5" range such as 4.05" in Mason City and 5.23" in Independence.
Radar estimates as much as 8" fell in a few sections of the state. The rain wasn't nearly as heavy in central Iowa, but some lucked out with some beneficial moisture.
The Des Moines International Airport received 0.87" on Sunday, making it the wettest day since July 6. Totals varied across the metro though with the heaviest total of 1.89" measured just north of downtown.
Weekend rain totals
Clarion: 1.68"
Algona: 1.64"
Fort Dodge: 0.36"
Carroll: 0.24"
Marshalltown: 0.18"
Webster City: 0.13"
Iowa Falls: 0.08"
Ames: 0.06"
Grinnell: 0.04"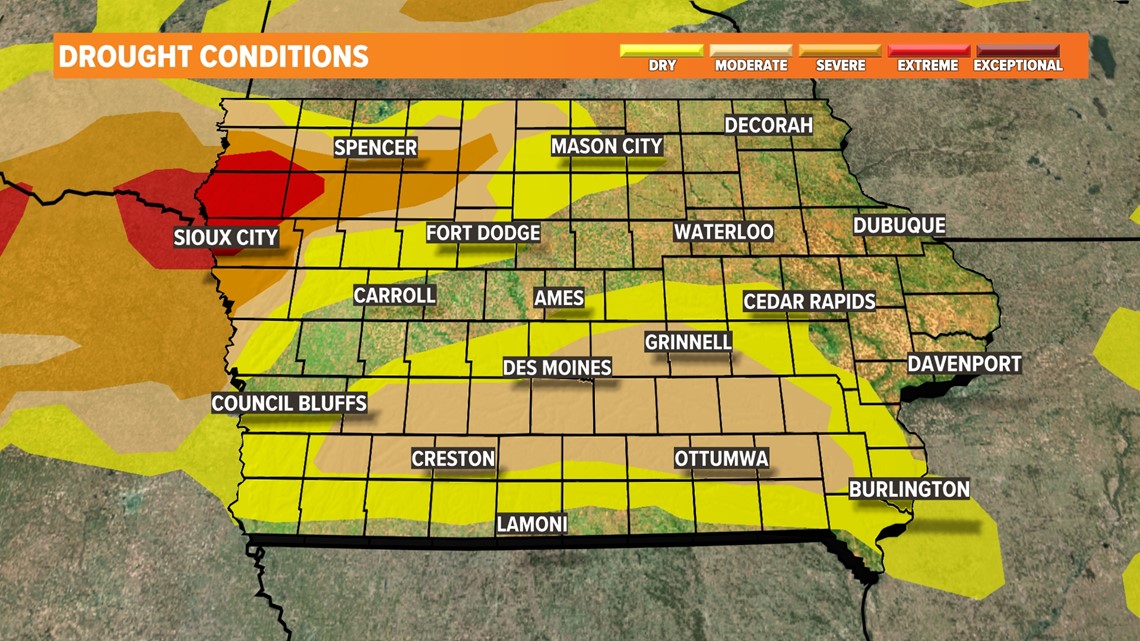 As of last week's drought update, 60% of Iowa was experiencing at least abnormally dry conditions and over 30% were under at least moderate drought.
Northwest Iowa continues to suffer through the worst of the drought conditions while south central Iowa's drought is slowly increasing.
The forecast looks completely dry today through Wednesday. Off and on rain chances return late this week through early next week.