DES MOINES, Iowa — It may feel cold outside now, but winter is actually Iowa's fastest-warming season.
The average winter temperature in Iowa has climbed more than three degrees over the last 50 years.
With the warming winters comes a longer growing season.
The time between the last freeze in the spring and the first one in the fall has increased by about 10 days since the beginning of the 20th century.
That additional time has some benefits.
"We've seen a lot of farmers see an increase in yields, given a longer growing season and warmer conditions," said Justin Glisan, State Climatologist of Iowa.
It also provides more time to establish cover crops after the fall harvest.
"You harvest a little bit earlier, then you put that cover crop and it has got more time to grow in the fall," said Dennis Todey, Director of the USDA Midwest Climate Hub.
It is a good plan in theory, but the warmer climate is leading to wetter weather when farmers need to get work done.
"We have seen an increase in precipitation in the spring and fall," Glisan said. "So we have seen wetter periods in which farmers were not able to get out in the field."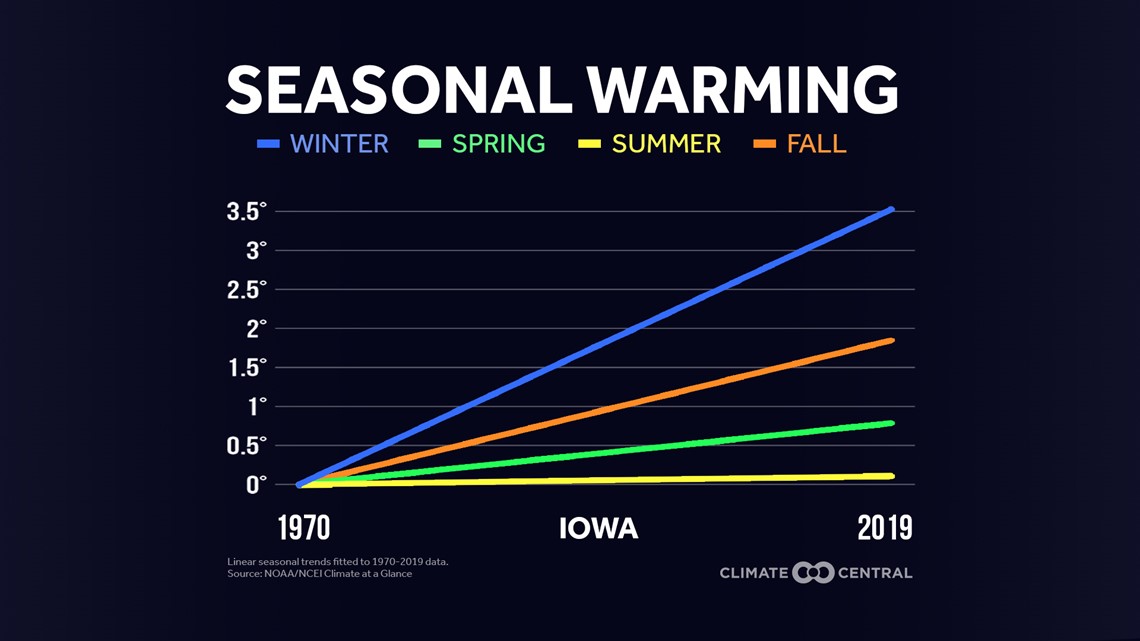 More erratic weather patterns may negate the positive outcomes of a longer growing season. For example, these extremes can throw off the timing of the pollinators farmers rely on.
"You may have a crop that needs to be pollinated when the bees aren't there yet, and then that leads to a mismatch," Todey said.
Fewer cold days also bring greater challenges for pest control.
"If you don't get as much cold, maybe pests don't want to winter in Texas, they overwinter in Arkansas or southern Missouri. That is easier for them to make their way northward instead of having to from as far south."
Iowa State University experts predict the negative effects of climate change will eventually lead to lower annual yields for farmers.
The question now: How can farmers adapt to keep their business viable and remain profitable?
In states like Illinois and Missouri, some growers are getting the most out of their fields by double-cropping.
"Double cropping is a form of multi-cropping," said Dr. Matthew Gammans, Assistant Professor and Extension Economist at Michigan State University. "Multi-cropping is really any time where you are getting more than one harvest off the land in a given year."
The primary type of double-cropping in the U.S. is winter wheat and soybean, meaning farmers harvest the wheat in the spring before planting soybeans in the ground.
While this is a popular strategy in many Midwestern states, double-cropping has yet to catch on in Iowa.
"The profitability of corn and soybean is just so high in Iowa that adding another element to the process and introducing additional opportunities for risk and for things to go wrong," Gammans said.
Gammans' research shows double-cropping in Iowa could actually lower soybean yields by up to 12% for some farmers, wiping out any potential gains from planting winter wheat.
While double-cropping is not generally viewed as financially responsible right now, there are new practices constantly evaluated to help farmers adapt to Iowa's changing environment.
"We don't know all the answers right now," Todey said. "That is why we want to work with producers. We have been trying to help people come up with ideas to try and deal with some of these resiliency issues."
Watch: Here's why it feels colder on a winter day with high humidity