DES MOINES, Iowa — Editor's note: The video above was recorded on August 31, 2023.
Drought conditions are getting worse across Iowa as the calendar turns to mid-September.
Severe drought is also growing, and now includes much of central, western, and south-central Iowa. A small area of northern Iowa is in this zone as well.
Most of the Des Moines metro is experiencing severe drought, signaling the beneficial rainfall around Sept. 10 and 11 did little to alleviate ongoing dryness.
Southeast Iowa towns like Bloomfield and Ottumwa are dealing with extreme drought. Roughly 26% of the state is experiencing extreme drought, an increase of 8% since the beginning of the month.
Nearly 75% of Iowa has at least severe drought conditions, a major jump from around 50% when September started.
According to statistics from the U.S. Drought Monitor, an estimated 2,986,730 Iowans live in drought areas.
Using Iowa's population from the 2020 census (3,190,369), this means 94% of all people in the state are dealing with the drought.
Extreme drought causes a variety of issues for Iowans, but these are a few of the most prominent ones:
Pastures are dry; producers sell cattle
Crops are tested for toxins
Crops may face pest infestation
Farmers deal with high feed prices
Seasonal allergies worsen
Trees drop leaves; acorns are underdeveloped
Warmer water leads to fish kills
Streambeds are low to dry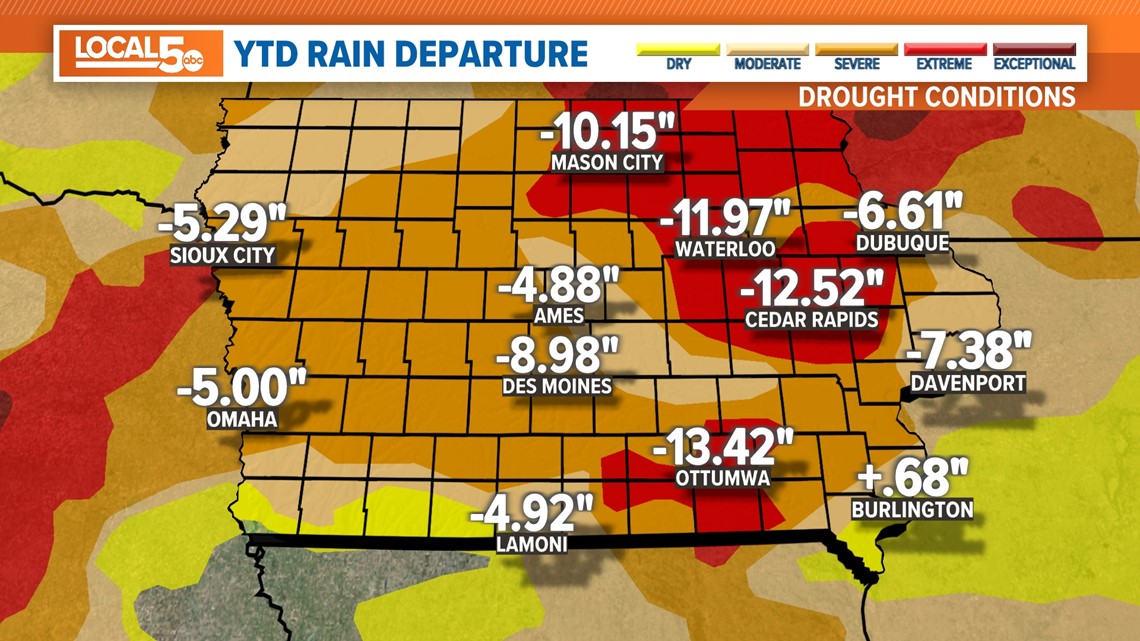 As of Sept. 14, Des Moines is 9" below average for precipitation in 2023. The numbers are even worse in eastern and northeastern Iowa.
For example, Cedar Rapids is more than a foot below average for the year through this date.
The Climate Prediction Center says above-average precipitation is possible towards the end of the month as the upper-level pattern changes. As a large trough of low pressure begins to develop over the western half of the nation, higher rain chances should be favored across he Midwest.