DES MOINES, Iowa — A new report issued by the U.S. Drought Monitor Thursday shows an area of expanding drought in central and southern Iowa.
According to the report, 30.6% of Iowa is experiencing moderate drought, up from 17.2% a week ago.
9.1% of Iowa is experiencing severe drought, a 1.4% increase from last week, while 3.2% of the state is dealing with extreme drought.
The worst drought conditions are focused over northwest Iowa, including the Sioux City area.
National Weather Service data shows Sioux City has only received 8.77" of rain since the start of 2022, nearly 10" below average for precipitation through early August.
Parts of metro Des Moines are now experiencing moderate drought, as well as communities like Creston, Grinnell, Newton, Ottumwa, and Winterset, among others.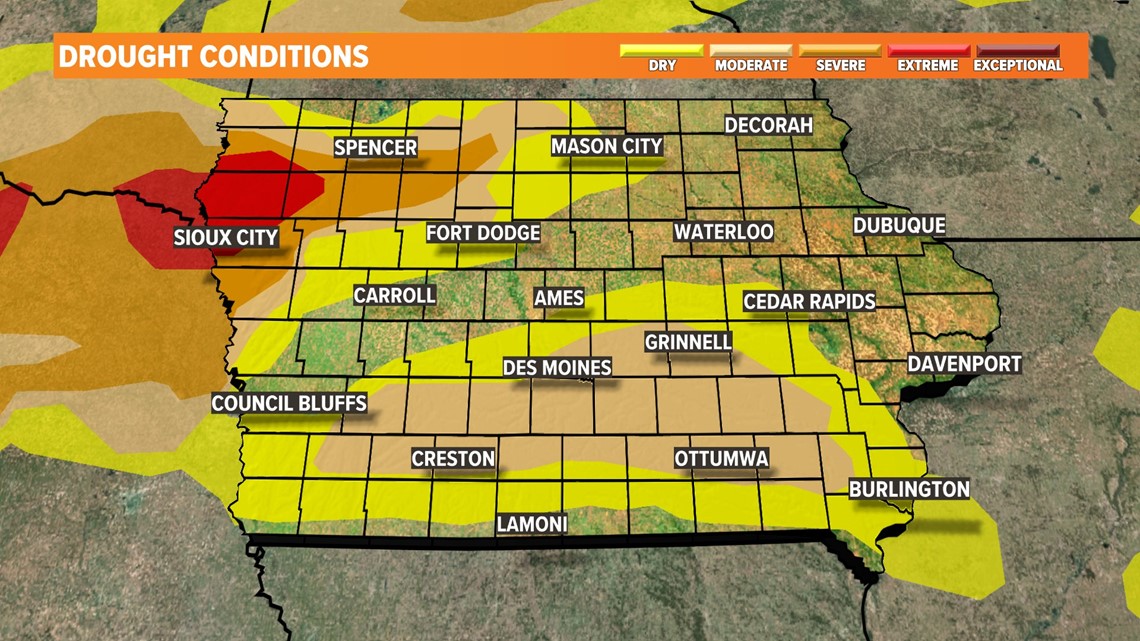 In the first four days of August, Des Moines has received no rainfall at the airport, which is already close to a half inch below average.
Typically, August is one of the rainier months in Des Moines: the average rainfall for this month is just over four inches.
So far in 2022, Des Moines has recorded 17.1" of rain, while the average precipitation through this date is 23.3".
Iowa has experienced drought in late summer and early fall for several years in a row, affecting farmers and gardeners alike. The U.S. Drought Monitor releases new drought reports each Thursday.
Each report accounts for new precipitation through the Tuesday prior to the Thursday release.
Meaningful rainfall is needed in much of central and southern Iowa over the next few weeks to mitigate the effects of the expanding drought.