DES MOINES, Iowa — Meteorological fall begins Thursday, marking the start of autumn for weather forecasters (September 1-November 30).
Although astronomical fall, otherwise known as the autumnal equinox, doesn't begin until Sept. 22, scientists use this date range to make collecting temperature and precipitation data simpler.
Fall in Iowa typically signals the arrival of cooler temperatures, less precipitation, frost and freeze conditions. And yes, often a bit of snow.
What is fall normally like in central Iowa?
Data collection in Des Moines first began in 1878, but the airport didn't take over as the official sign until 1928.
In Des Moines, the average temperature for meteorological fall is 52.9°.
The warmest meteorological fall occurred in 2010, when the average temperature reached 60°, while the coolest meteorological fall dates back to 1880, when the average temperature was only 46.9°.
Fall is normally drier than summer in central Iowa: the average precipitation drops to 7.87" in Des Moines, down more than 5" from the meteorological summer average.
The first frost and freeze of the "cold" season always occur during meteorological fall.
On average, frost becomes a concern in northwest Iowa by late September, while it doesn't usually affect the southeast part of the state until sometime in the middle of October.
In Des Moines, the average first freeze — when the temperature slips to 32° or below — hits on Oct. 17.
Initial freeze and frost dates vary greatly, though, with the earliest occurring in September and the latest in November.
Finally, Des Moines averages 3.2" of snow during meteorological fall: that's 0.5" on average in October, and 2.7" on average in November.
That doesn't mean there's always measurable snow in fall, of course. 81 years on record reported no October snow at all.
The earliest trace of snow in Des Moines occurred on Sept. 24, 1985.
Here's what fall 2022 may look like over Iowa
It is difficult to predict exactly how meteorological fall will pan out, especially because even minor shifts in the jet stream and upper-level atmospheric patterns can affect the weather.
The Climate Prediction Center issued their seasonal outlook on Aug. 18, which forecasts a 40-50% chance of above-normal temperatures for fall in Iowa.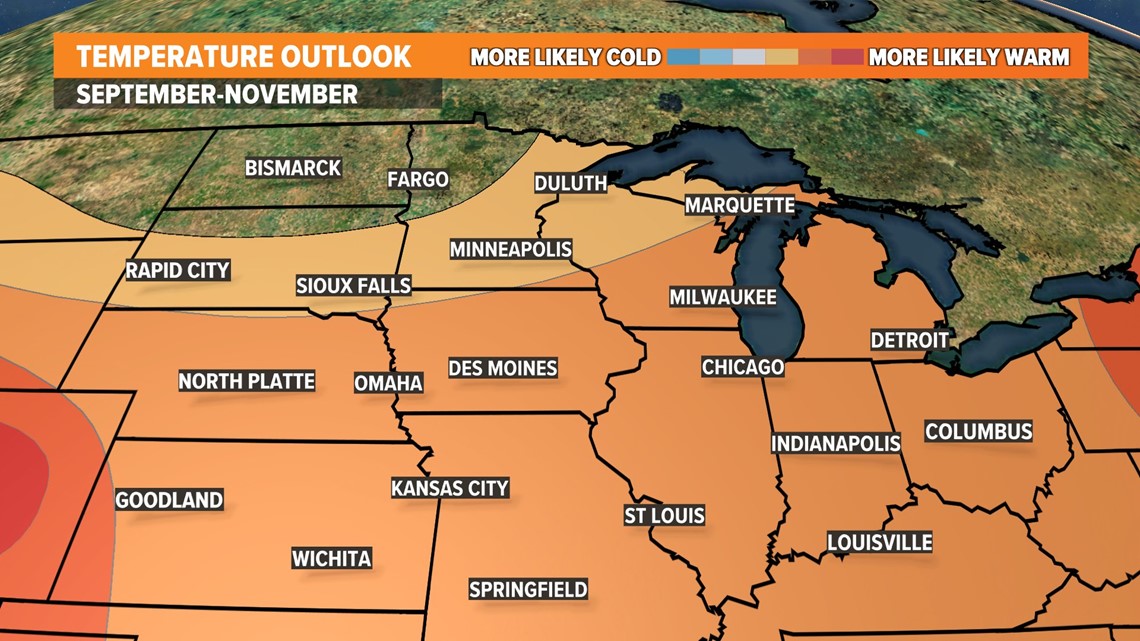 During the same time period, the CPC gives Iowa a 33-40% chance of seeing drier than normal conditions.
As of Sept. 1, long-range weather models show warm temperatures through at least the first 10 days of the month.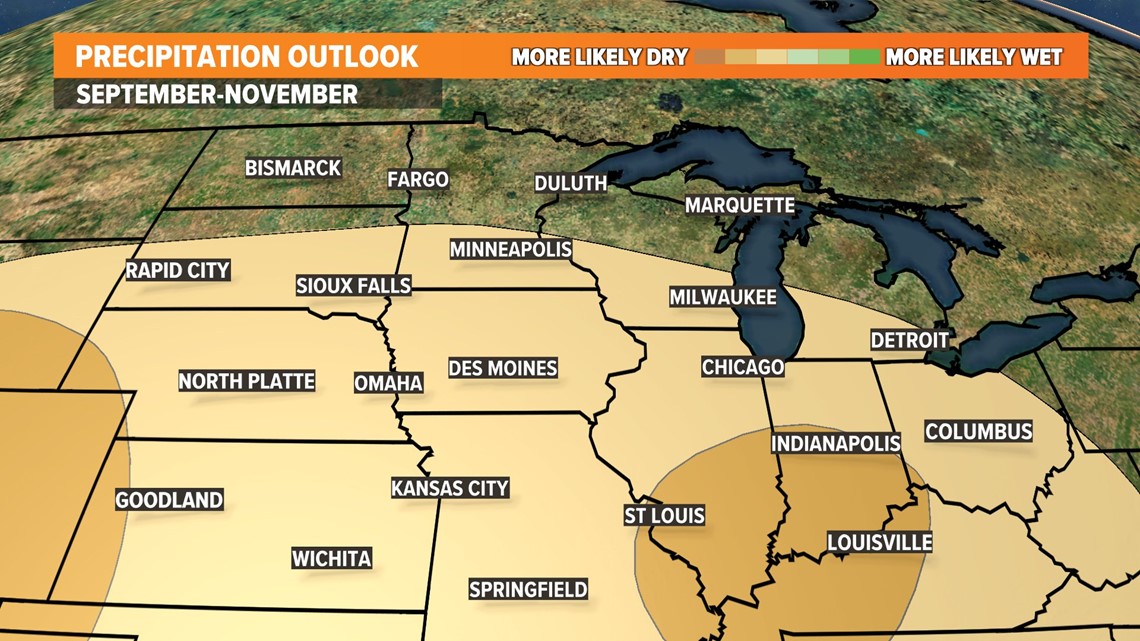 Here's how we wrapped up meteorological summer
Just like fall, weather forecasters use a three-month period to keep summer temperature and precipitation records (June 1-August 31).
The average summer temperature in Des Moines was about 76°, which is two degrees above summer's normal temperature of 74°.
Summer 2022 ranked as the 22nd-hottest summer on record in Des Moines. Notably, summers in 2010, 2011, 2012, 2016, 2018, 2020, and 2021 each ranked in the top 20 hottest summers.
August was the wettest month so far this year, with 4.04" of rain recorded at the Des Moines airport.
That total pushes the city's summer total to 9.39", still 3.73" below average. This was the driest summer since 2020 (9.26"), but comes nowhere close to the driest summer on record, which happened in 1886 (2.58").
In southeast Iowa, Ottumwa reported the fifth-driest summer since records began there in 1948, with only 5.24" of rain. That's 8.3" below average, and only 1.86" away from being the driest summer there in nearly 75 years.
That warning came on June 8 for portions of Adair, Adams, Cass, Madison and Union Counties, to the southwest of metro Des Moines.