DES MOINES, Iowa — As if 2020 didn't put forth enough issues with the coronavirus pandemic and a tumultuous election season, the United States also reported a record number of billion-dollar weather and climate disasters through the year.
According to experts at Climate Central and NOAA, 22 billion-dollar weather and climate disasters occurred in 2020, resulting in at least 262 fatalities nationwide.
In total, those 22 disasters cost the United States roughly $95 billion.
Although these numbers are disturbing, the trend is not new. In fact, 2020 is the sixth year in a row in which the United States has been impacted by ten or more billion-dollar disaster events.
This amplification of extreme weather events can be attributed to climate change, while urban growth in hazardous weather areas is also exacerbating their impacts.
The following billion-dollar weather and climate disasters occurred in 2020:
7 land-falling tropical storms or hurricanes

Hanna, July 25-26
Isaias, August 3-4
Laura, August 27-28
Sally, September 15-17
Delta, October 9-11
Zeta, October 28-29
Eta, November 8-12

3 tornado outbreaks/events

Southeast tornadoes and flooding, January 10-12
Tennessee tornadoes and southeast severe weather, March 2-4 (including an EF-3 tornado in Nashville, Tenn.)
Southeast and eastern tornado outbreak, April 12-13

8 severe weather events

South, east, and northeast severe weather, February 5-7
Midwest and Ohio Valley severe weather, March 27-28
Southern severe weather, April 21-23
Central, southern, and eastern severe weather, April 27-30
Central and eastern severe weather, May 3-5
South, central, and eastern severe weather, May 20-23
Central severe weather, July 10-11
Central severe weather, August 10 (including the historic Iowa derecho)

2 hail events

North central and Ohio Valley hail storms and severe weather, April 7-8
South Texas hail storms, May 27

1 drought event

Western/central drought and heatwave, Summer-Fall 2020

1 wildfire event

Western wildfires, California, Oregon, and Washington, firestorms, Fall 2020
Over the last five years, 81 billion-dollar weather and climate disasters have affected the United States, totaling $606.9 billion and 3969 fatalities.
Since 1980, the U.S. has sustained 285 separate billion-dollar weather and climate disasters, exceeding $1.875 trillion in total damages.
All 50 states have recorded at least one billion-dollar disaster since tracking of the disasters began in 1980.
Texas has recorded 124 billion-dollar disasters since 1980, the most of any state.
Of course, the severe impacts of climate change aren't something we can leave behind in 2020.
Experts at Climate Matters suggest these figures will only grow in the coming years unless the United States finds ways to make meaningful and sustained cuts to carbon dioxide (CO2) emissions.
Despite reports of temporary dips in emissions early in the pandemic, Climate Matters says greenhouse gas concentrations in the atmosphere continued to rise as they have since the industrial revolution (due to the burning of fossil fuels), with carbon dioxide concentrations reaching an all-time high of 417 parts per million (ppm) in May 2020.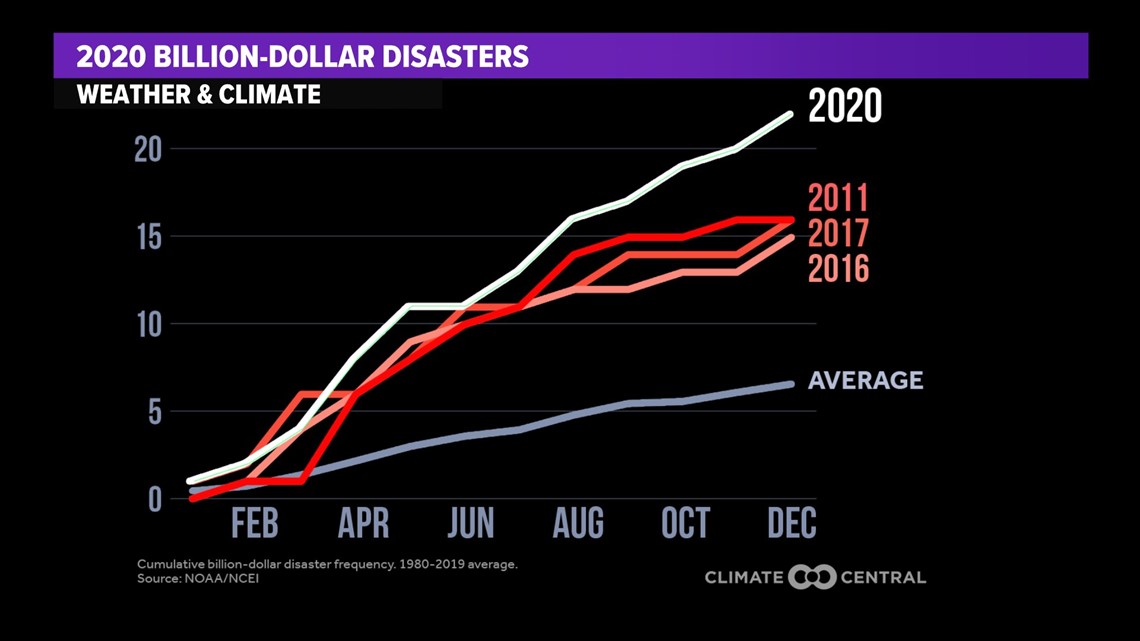 Moving forward, the effects of climate change will need to be addressed in detail in order to reduce the consistent growth in the number of billion-dollar weather and climate disasters across the United States.
Download the We Are Iowa app or subscribe to Local 5's "5 Things to Know" to get the latest weather forecast!