DES MOINES, Iowa — The Iowa derecho storm has broken a national record in terms of costly damages.
October, the National Oceanic and Atmospheric Association (NOAA) updated its report of billion-dollar climate disasters in the U.S.
The report breaks down expensive disasters by types of storm--from droughts, to hurricanes, to wildfires, and severe storms.
In the "severe storm" category, the August 2020 derecho handily surpasses other storms of that nature, which have been categorized by NOAA since the year 1980.
Adam Smith, lead scientist for NOAA's U.S. Billion-dollar Weather and Climate Disaster analysis, said the report has no bearing on FEMA dollars or how much additional money the state could receive.
"This report is more of a broad picture placing a variety of weather and climate extreme events across the country into historical context," said Smith.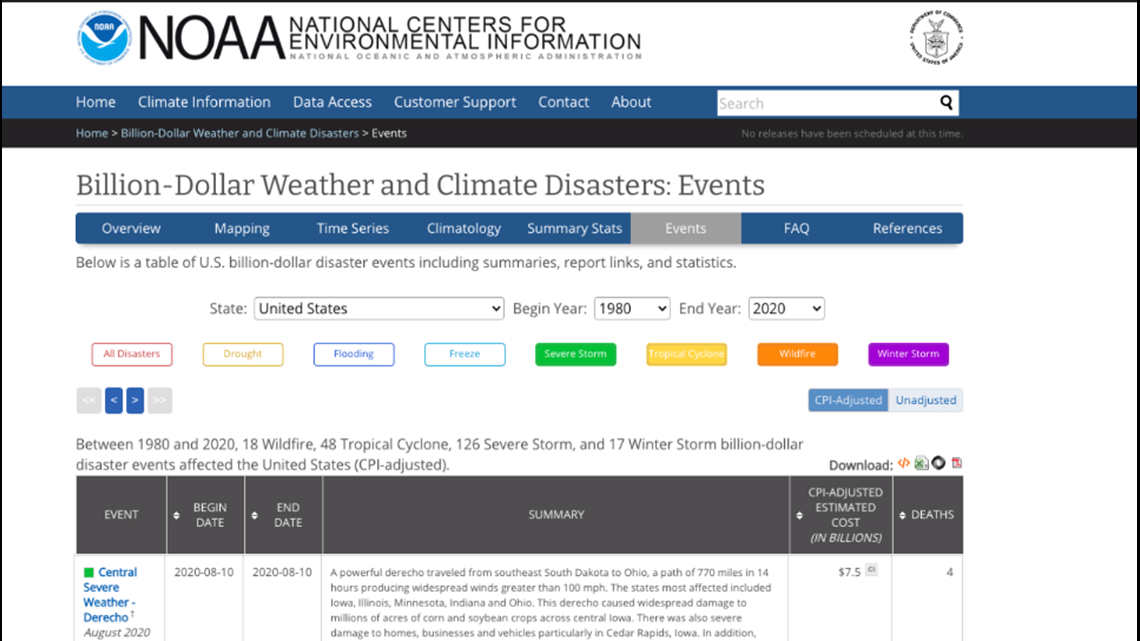 Smith had to reach out to numerous agencies to compile an accurate estimate of damages, in both public and private sectors.
"These costs we include are the physical damage to residential, commercial, and government / municipal buildings; the material assets within a building; time element losses like business interruption; damage to vehicles and boats; public infrastructure like roads, bridges, and buildings; agricultural assets such as field crops, livestock, and commercial timber," said Smith.
Smith also reached out to the Iowa Department of Homeland Security and Emergency Management.
"We've talked with the folks from NOAA about the report," said Dennis Harper, a recovery division administrator for Iowa DHS and Emergency Management. "Generally they reach out to us because of the program data we have."
Harper said his agency is still working on calculating the costs of "green debris", or tree-related debris. He expects the costs to continue to climb.
"Any estimates we had initially right after the event on green debris are going up."
Harper said one major takeaway was that many cities may start looking at the housing availability for people living below the poverty line.
"As we go down the road, we're going to find out that some communities long-term want to build or construct new low-to-moderate-income housing," said Harper. "Those are needs that are going to come out fo the event that won't be known for a year."