DES MOINES, Iowa — Severe thunderstorms roared from northwest to southeast across Iowa Tuesday afternoon and evening, bringing intense wind gusts and torrential rain to many areas of the state.
The storm complex began early Tuesday near the North Dakota and South Dakota border, but extreme heat and humidity across the Midwest fueled the storms for hours until they eventually weakened over Iowa.
In several of their forecast discussions issued Tuesday afternoon and evening, the Storm Prediction Center referred to the storms as a "progressive derecho-producing MCS" (MCS is short for a mesoscale convective system).
Specific criteria have to be reached in order to label a storm complex as a derecho:
The swath of wind damage must extend more than 250 miles, producing wind gusts of 58 mph or greater along most of its length
It must also include several, well-separated 75 mph or greater wind gusts
The damage path also needs to be greater than 50 miles wide
This is the fourth derecho to impact Iowa over the last few years, with previous derechos occurring on Aug. 10, 2020, Dec. 15, 2021, and May 12, 2022 (far northwest Iowa).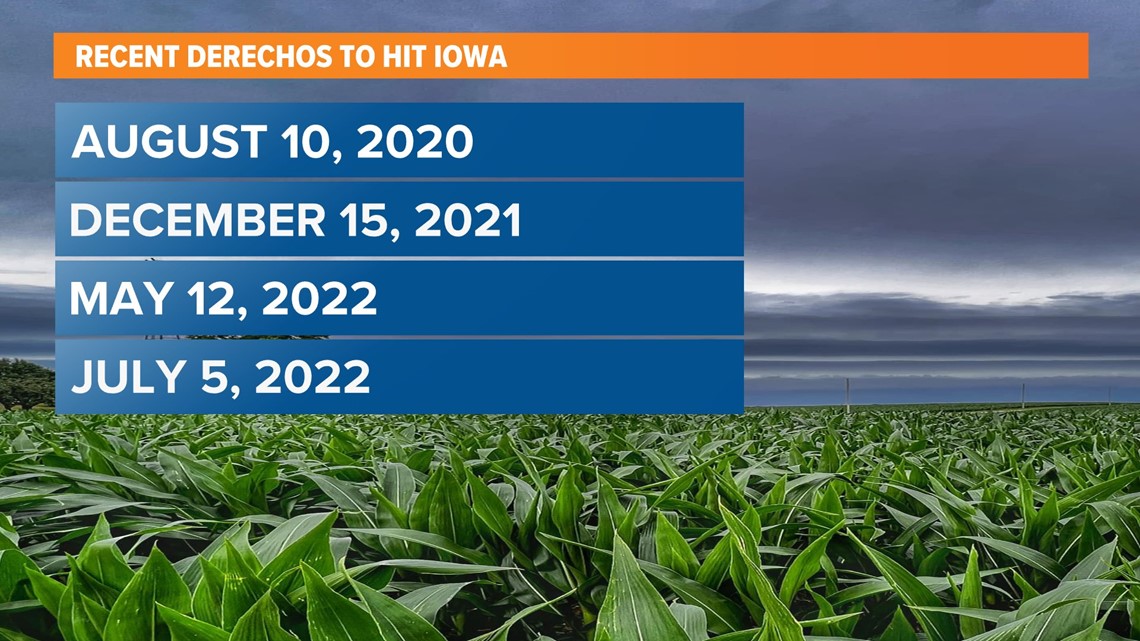 Although it seems like the term has been used more frequently in the last few years, they are not new types of storms and they're not uncommon in Iowa.
Tuesday's storm complex weakened considerably as it moved into Iowa, as it produced wind gusts higher than 95 mph in parts of South Dakota.
The highest wind gusts in Iowa occurred in the northern part of the state:
Clear Lake: 68 mph
Algona: 64 mph
Forest City: 59 mph
Iowa Falls: 59 mph
Gruver: 58 mph
Manson: 57 mph
The storm also produced heavy rainfall across much of central and northern Iowa.