DES MOINES, Iowa — It's now the time of year where Iowa receives a little bit of each season: one week there's snow and cold, the next there's a severe weather threat.
That means it's a good time to begin thinking about severe weather preparedness, even if peak severe storm season doesn't normally occur in the state until late spring into early summer.
Nearly every time there is a chance for severe storms, meteorologists mention the risk level or severe weather outlook.
Sometimes this is referred to as a level one, two, or three risk for instance, while other times it gets a descriptor word such as "marginal" or "slight."
So what does it all mean?
These outlooks are drawn based on where the parameters for severe weather appear greatest, and are normally issued up to three days in advance.
Consider an outlook issued one day ahead of a severe weather outbreak on March 17, 2021 for the southern United States.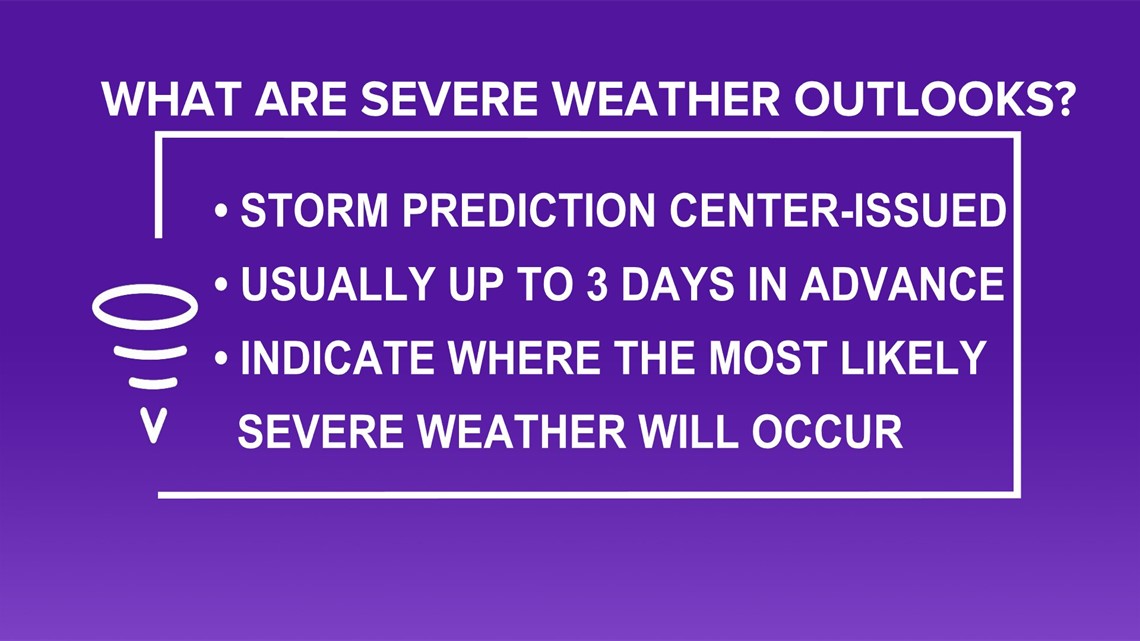 Four risk areas are highlighted, including a marginal risk in green, a slight risk in yellow, an enhanced risk in orange, and a moderate risk in red.
EDITOR'S NOTE: The Storm Prediction Center did ultimately issue a high risk for severe weather in parts of the southeast early in the morning on March 17, 2021.
High risk outlooks are depicted in pink, but are fairly rare occurrences.
In fact, the last high risk ever issued in Iowa was in early June 2014, nearly seven years ago.
The Storm Prediction Center outlooks generally align with Local 5's threat levels on a scale of 1 to 5, with a 1 representing a marginal, or lower-end risk and a 5 representing a high risk.
As the risk level increases, so does threat for severe weather, including how widespread an event may be.
To further explain, a marginal risk means a few strong-to-severe storms are possible, while a high risk means widespread severe storms are expected, with intense, long-lived storms likely.
These outlooks are especially important during severe weather season, as they offer meteorologists and the public a good idea of what to expect when it comes to any potential hail, damaging wind, or tornado threats in Iowa.
A word to the wise, though: all severe weather risks, from marginal to high, should be taken seriously.
Some very strong storms have developed even during a low-end threat day.
Local 5's team of meteorologists is always at-the-ready for severe weather risks, keeping Iowans safe and informed during all severe storm events, minor or widespread.