DES MOINES, Iowa — Tuesday was quite an active day across Iowa as several severe thunderstorms caused damage and flash flooding in many spots, including the Des Moines metro.
Isolated non-severe storms initially developed along a cold front on Tuesday afternoon, but they quickly intensified by the early evening. Shortly after 6:30 p.m. Tuesday, a tornado warning had been issued for parts of Boone and Story counties.
No tornadoes were officially reported in these areas, but a funnel cloud was spotted in the Bouton community.
More storms developed rapidly and a tornado warning was later issued for Polk County and much of the Des Moines metro.
Since the storm developed right near the Des Moines doppler radar location along Saylorville Lake, it was difficult to see where the rotation initially formed.
Meteorologists at the National Weather Service Office in Des Moines were forced to seek shelter as the rotation moved right over their facility in Johnston.
Again, no tornadoes were officially reported in the metro area, but strong straight-line winds with gusts up to 70 MPH certainly rolled through the region.
These intense wind gusts led to tree damage and crop damage from Johnston to West Des Moines.
For the latest weather forecast, download the We Are Iowa app or text WEATHER to 515-457-1026.
At one point, thousands of homeowners in the were without power because of the powerful winds, according to MidAmerican Energy.
The wind was just part of the issue, though.
Flash flooding was another aspect of the storm, as torrential rainfall led to three or more inches of rain from Ankeny to Des Moines' south side.
As the rain occurred in such a short period of time, many ponds and streams began developing on area roadways before a flash flood warning was issued.
Storms forming over Des Moines metro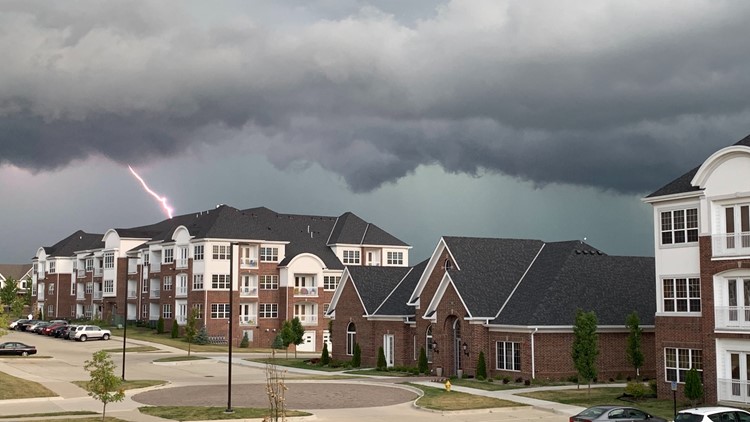 Street flooding quickly became a problem for the Merle Hay neighborhood, where cars were spotted driving through large pools of water. More flooding was reported in fields and ditches around the metro.
Once the storms exited the metro area, they pushed into southeastern Iowa.
Strong wind gusts were reported in Jasper, Warren, Marion, and Mahaska counties throughout the evening. Very heavy rainfall occurred in these locations as well.
As the night wore on, storms did eventually weaken after 10:00 p.m. Tuesday because much of the thunderstorm energy had already been tapped into with the storms that did move through.
Thankfully, no injuries were reported during Tuesday's storms.
As always, Local 5's weather team will keep you safe and informed ahead, during and after storms affect central Iowa.