DES MOINES, Iowa — First responders transported only one person to the hospital Thursday following a massive pileup on I-80, according to the Newton Fire Department.
Rescue crews extricated the person out of their vehicle to send them to the hospital. Their condition is unknown, according to the Newton Fire Department.
A release from the department says several minor injuries were reported "with no others being transported to the hospital."
The Iowa State Patrol said I-80 throughout central Iowa reopened Thursday evening following the pile-up that included around 40 vehicles.
A total of 14 officers, seven ambulances and several tow trucks responded to the multi-vehicle crash on I-80 near Newton, the Jasper County Sheriff's Office told Local 5 Thursday afternoon.
Initial reports were of "many seriously injured parties," according to the Newton Fire Department. They said ambulances were sent from Baxter, Colfax, Kellogg and Monroe.
School busses in the area took trapped individuals to the Iowa Speedway for shelter. The Newton Fire Department confirmed the bus belonged to the Newton Community School District.
Clean-up was still going on more than six hours after the crash.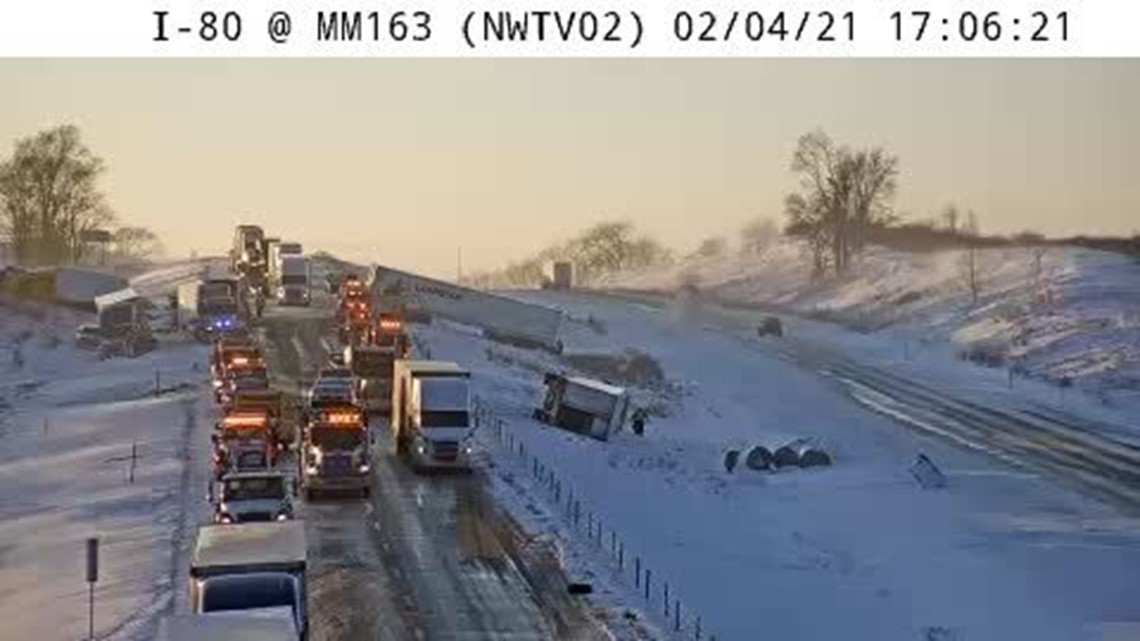 Travel early Thursday was harsh amid the snowstorm.
Traffic incidents began to pile up around 7 a.m. as drivers made their way into work and school. Several major school districts did not delay classes due to the storm.
Wind gusts contributed to the dangerous conditions. According to the National Weather Service, Boone Airport received several reports of whiteout conditions and a gust of 58 miles per hour at 7:15 a.m.
In Adair, an Iowa State Trooper tweeted out a picture of a semi off the road, causing significant traffic delays.
Interstates and highways covering north-central and western Iowa were quickly covered in snow and ice as the morning progressed, making travel difficult.
A West Des Moines police cruiser crashed into a stop sign Thursday morning during the snowstorm.
Local 5 will continue to update this story.