DES MOINES, Iowa — Last year's COVID-19 era funding allowed some schools to provide free meals for kids, both during the school year and the summer. Changes to pandemic restrictions, however, have impacted some of those services.
The change comes at a time when organizations such as United Way of Central Iowa are seeing a startling increase of food insecurity among metro families.
"Numbers have increased, just month over month, and pantries are seeing... record breaking months, every month," said Luke Lynch, OpportUNITY Director for United Way of Central Iowa.
Making sure kids are fed during record-high food insecure months is a top reason why United Way is partnering with schools and the community to provide free meals this summer.
"The number of students who are taking advantage of the free summer meals does not equal that of those who are eligible for free and reduced during the school year," Lynch said. "One thing that we really tried to do through our summer meal meetups group is to increase awareness that, 'hey, these programs exist.'"
United Way is just one organization providing free meals for kids; schools are also getting in on the fun.
"They are welcome to come get meals," Scheunemann said. "We have activities at our sites every day. So, come and have fun and enjoy some lunch."
Johnston Community Schools will be serving food from June 7 to August 4, Monday through Friday at two separate locations: Sterling Point for breakfast, and The Avenue for lunch.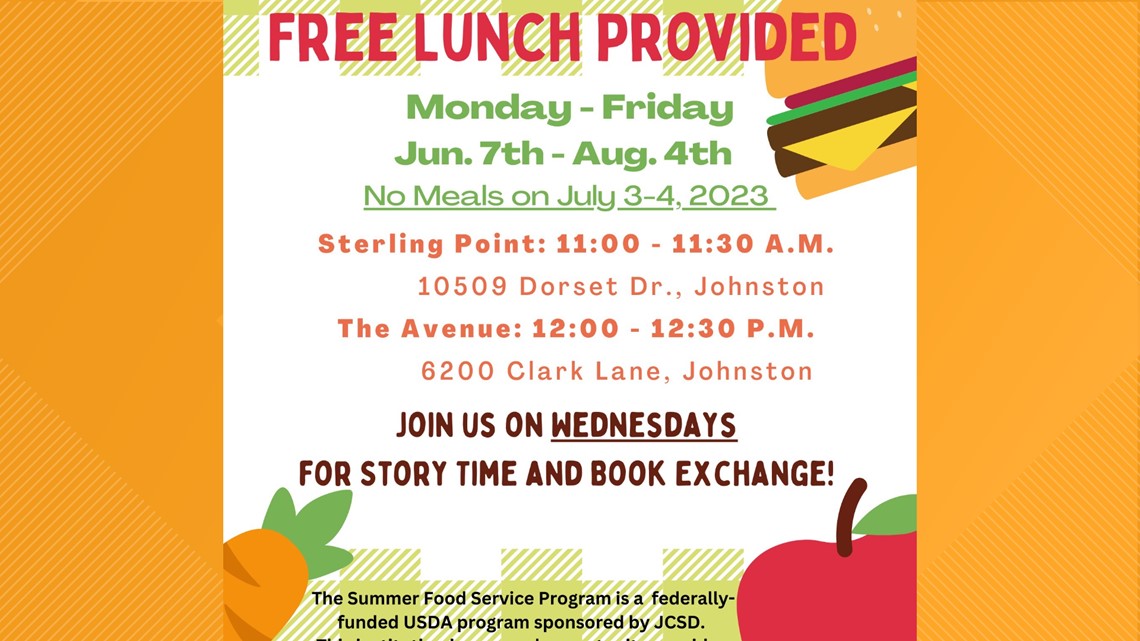 West Des Moines Community School District is offering free meals during the summer at eight different sites Monday through Friday with varying start times.
There is one big change to free summer lunch programs, though: due to relaxed COVID-19 protocols, families are no longer able to grab the meals and take them home.
"You have to go to the location to get the food. so transportation becomes a barrier," Lynch said. "If... you have to walk across or go across town or go across a busy street, or parents have to leave work to go drop their kids off at these places... that's definitely a concern."